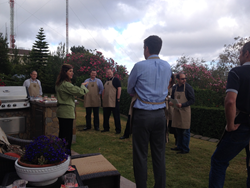 Chef Jodi did a fantastic job from beginning to end. The experience and the food were phenomenal. It was a great team building event!
La Jolla, CA (PRWEB) June 03, 2014
Lajollacooks4u is welcoming grill season with open arms, especially with the growing demand for team building events and the onset of charming summer weather. Lajollacooks4u is now firing up the grill during team building cooking classes so that teams can gain experience in all areas, from cooking to baking, and now grilling.
A typical corporate team building event at Lajollacooks4u splits participants into teams to tackle the various tasks and recipes of the group's customized five-course menu. With an emphasis on establishing a sense of team unity, team members collaborate and playfully compete against other teams during the cooking process. When the meal is finished, the group reconvenes at either the indoor dining area or outdoor patio where they are served the meal they created together.
Lajollacooks4u provides teams the full range of culinary experience, allowing guests to try their hand at cooking, baking and grilling in both the indoor and outdoor kitchens. Participating teams are able to use Lajollacooks4u's grill and smoker to prepare delicious summer recipes. Teams also have the option to dine outside, enjoying their meal while gazing upon the magnificent views of the Pacific Ocean.
Two San Diego-based corporations recently selected Lajollacooks4u as their destination for their unique team building events. Both corporations loved the unique and collaborative activity Lajollacooks4u provided them, and especially enjoyed the use of the outdoor kitchen and dining area.
One of the participants shared with Chef Jodi, "I had an amazing experience learning to cook! The food was fabulous and the instruction provided was top notch. The ambiance was wonderful and the views from the outdoor patio were stunning. Chef Jodi did a fantastic job!"
The number of team building events has been rapidly growing at Lajollacooks4u, and Chef Jodi is thrilled to offer a complete cooking experience to upcoming groups. Lajollacooks4u is also proud to be the only cooking school in the San Diego area that offers an outdoor kitchen, complete with a high quality grill and smoker, and beautiful dining area.
For more information regarding team building events at Lajollacooks4u, along with pricing and rates, visit the team building page here.
About Lajollacooks4u
Lajollacooks4u, founded in 2008, provides a unique and intimate activity for couples, corporate team building, and any foodie looking for a unique cooking and culinary experience in an ideal setting overlooking the Pacific Ocean. Based in La Jolla, a suburb of San Diego, CA, Lajollacooks4u has enjoyed record growth since its inception and is ranked as a top attraction in La Jolla on the world's largest travel review site, Trip Advisor. For more information, contact Jodi Abel at jodi(at)lajollacooks4u(dot)com or phone 1-858-752-4980.