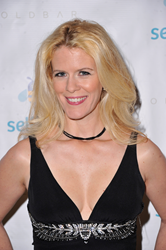 New York, NY (PRWEB) May 30, 2014
Selfbee is celebrating a successful launch of their new selfie app. The company had debut their selfie app at the much talked about launch event on Wednesday, May 28, 2014 at the ultra posh GoldBar in New York City.
Supporters and friends of Selfbee were in attendance to try out the highly anticipated new selfie app for the very first time. Guests were in attendance included Alex McCord and Simon van Kempen of Bravo TV's New York Housewives alum and top tier media from People magazine, People StyleWatch, Latina, Travel + Leisure magazine, Real Simple, Every Day with Rachael Ray, Nylon, Fox News, to Quien magazine to name a few.
Selfbee owners Roberto Quiroz Mata, Juan Pedro Vazquez Arroyo and Eduardo Vazquez Arroyo had an interactive event that proved to be sexy and alluring and most of all a big hit with guests. During the event, guests received complimentary cocktails from Alacran Tequila while noshing on GoldBar's tasty appetizers and listening to live music from multi-platinum selling producer and celebrity DJ, Chris Liggio. Guests also received a gift bag with scrumptious gourmet chocolate treats from Tache Artisian Chocolate as well as certificates from Joy Gryson and Equinox.
Selfbee, the new selfie app for self-expression, offers people an outlet to share their stories, identities, and personalities through creative and innovative photos by encouraging people to include the best moments of their lives with others. Selfbee allows users to challenge, motivate and share their photos with others on a daily basis that will unite people together from all over the world. Selfbee is available in 12 languages and is available in the App store: https://itunes.apple.com/us/app/selfbee/id870717588?mt=8
About Selfbee
Selfbee is an app that aims to give people a new and better way to relate by providing them an avenue to share their experiences, stories and identities. Selfbee connects people worldwide through personal pictures and experiences with entertaining challenges with others. For more information on Selfbee, visit http://www.Selfbee.com. To connect on Facebook, visit facebook.com/Selfbee and Instagram via Instagram.com/Selfbee and Twitter via twitter.com/Selfbeeapp.
For media inquiries, please contact:
Tamara York
Tamara York Public Relations, LLC
212.967.8300
# # #