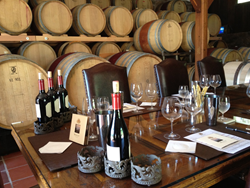 Reno, NV (PRWEB) May 30, 2014
Mirepoix USA, a leading online purveyor of foie gras, caviar, truffles, Wagyu beef, and other specialty gourmet foods, has designed an exclusive luxury tour of Napa Valley and San Francisco. The unique 10-day tour is filled with exclusive tastings, private tours, chef-led demonstrations and dinners at Michelin-starred restaurants, all with expertly paired premium wines. The tour will be held September 28 – October 8, 2014.
According to Mirepoix USA Founder, Laurel Pine, Connoisseur's Napa Valley & San Francisco tour participants will spend the first six nights in Yountville, the culinary center of the Napa Valley, and have private tours, tastings, and meals at some of the most coveted wineries. Wine educator and Sommelier, Rebecca Davidson, will be the co-escort for the six days in Napa, sharing her deep knowledge and passion for Napa Valley wines.
The tour's Napa Valley hotel, Bardessono, is conveniently located in downtown Yountville, within strolling distance of many of Napa's finest restaurants, including Bouchon, The French Laundry, Redd, and Bistro Jeanty. A contemporary eco hotel, with guest rooms uniquely designed for private in-room spa services, Bardessono was named by Trip Advisor as the #2 Luxury hotel in the US and #24 in the world.
Laurel Pine states that on way to San Francisco tour participants will visit Farmstead Cheese Company and Tomales Bay's Hog Island Oysters. In San Francisco there will be private tours of the Legion of Honor and Asian Art Museums. Aboard a private yacht, the exclusive group will taste caviar, cheese, and other Mirepoix USA specialties, while enjoying Champagne and taking in views during a Bay Cruise.
The four nights in San Francisco will be spent at Hotel Vitale, a contemporary luxury hotel located along the Embarcadero waterfront, across from the Ferry Building. This landmark San Francisco boutique hotel was designed to uniquely encompass modern luxury touches balanced with soothing natural elements. Guest rooms and the property's dramatic terraces have stunning water and city views, according to Pine.
While in San Francisco, the group will dine in some of San Francisco's most exciting Michelin-starred restaurants including La Folie, Boulevard, and Coi.
Connoisseur's Napa Valley & San Francisco is limited to ten participants, due to restrictions at boutique wineries and Michelin-starred restaurants. The tour is priced at $10,750 per person, based on double occupancy in a deluxe room. Upgrades to suites available at increased rate; standard rooms available at reduced rate.
Those interested in the tour should contact Laurel Pine no later than June 15, at 866-992-9559.
Since 2004, Mirepoix USA has been sourcing the highest quality specialty gourmet foods and traditional French foods from manufacturers and importers across the United States. The company currently offers over 40 foie gras selections; fresh truffles including summer truffles, Burgundy truffles, Perigord black truffles and Alba white truffles and well as truffle based products; French charcuterie, and a wide selection of caviar. In recent years the online retailer has expanded product offerings to include Wagyu and US Kobe beef, French cheeses, and gourmet gift baskets and gourmet food. Mirepoix USA began offering culinary travel and luxury food tasting events in 2012.
For more information about Mirepoix USA and Connoisseur's Napa Valley & San Francisco, visit http://www.mirepoixusa.com or call 866-992-9559. The full itinerary and accommodations details are posted on the website.