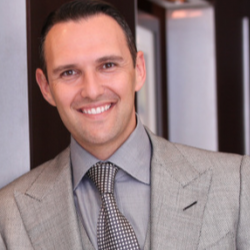 Beverly Hills, Calif. (PRWEB) May 30, 2014
Arthur Glosman DDS, world renowned cosmetic dentist in Beverly Hills, launches a redesigned responsive dentistry website. The redesign offers quick and easy access to dental product information, new product information, videos, social media connections, and features that offer a more comprehensive understanding of Arthur Glosman's contribution to cosmetic dentistry, product development, new technology and high quality porcelain veneers.
The new website features an uncluttered design, improved functionality, and enhanced rich content focused on Dr. Glosman's mission to provide his patients with the highest quality cosmetic and general dentistry services, including his proprietary enhancement procedures – Glosman Porcelain Veneers, Glosman LipLift™, Glosman DentalLift™ and new Glosman Dental Beauty™ products.
"I am excited for the world to see what I have worked towards over the years," Arthur Glosman, cosmetic dentist. "This will be a milestone year for me as I launch my new product line and continue to connect with our patients via my dental blog and social media." Arthur Glosman DDS is considered one of the top cosmetic dental offices located in Beverly Hills, an admired city for cosmetic dental and beautification practices. "I strive to be the best cosmetic dentist in Los Angeles and to serve both my local community and my extended community worldwide."
Arthur Glosman DDS has been prominently featured in numerous print and television interviews including Women's Health Magazine, Women's Day Magazine, Daily Beauty and more. "I will continue to work with the media, when requested, to share important dental tips to the community," Arthur Glosman mentions.
The new website was completed on April 4, 2014, and can be found at the same web address: http://arthurglosmandds.com/
Arthur Glosman Dental Blog will also be updated regularly with news, products, dental information and features. Visitors are encouraged to explore the blog and share significant articles via social media such as Facebook, Twitter Google + and YouTube.
###
About Arthur Glosman
Cosmetic Dentist Arthur Glosman DDS offers a wide array of general, cosmetic and orthodontic dental services to patients in Beverly Hills and neighboring communities who demand the best in overall dental care. His extensive experience in various fields of dentistry, including training in health and beauty care, gives him an edge over other cosmetic dentists in Los Angeles. Satisfied patients from all over the world have benefited from the advanced dental and beauty solutions offered by Arthur Glosman and his staff, reinforcing his reputation as one of the best cosmetic dentists in Beverly Hills and beyond. He has not only allowed patients to get back the lost beauty and state of their teeth, but also enabled them to improve the quality of their lives by boosting their inner confidence and outer looks. His comprehensive and comfortable approach are why most people who demand top quality dental work prefer to visit Dr. Glosman with all their dental concerns.
Media Contact
Karl Hirsch
818-244-3770 x 104