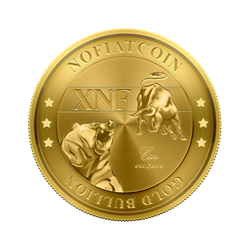 New York, NY (PRWEB) May 29, 2014
Continuing its strategy of delivering exceptional value to its clients Tilmore Investments S.R.L., the company behind Nofiatcoin (XNF), has acquired 3,465 ounces of pure gold (99.99%). The gold, which will be delivered in phases starting this coming June, has already been committed to mint XNF gold coins.
"We wanted to make sure we announced this purchase as we know that once the coins have been produced and start circulating, the value of XNF will dramatically increase. We strive to be a very transparent company and we didn't want such an increase to be unjustified," said Nofiatcoin's CEO, Robert Reyes.
Interested buyers will be able to acquire the gold coins via XNFTrading.com, as well as on the secondary market. In a statement, Robert Reyes provided an update about XNF Trading, as he explained, "the second release of the platform, happening in June, is going to be a turning point for our business. We recently implemented a Price Guarantee, which allows customers to take advantage of the lowest rate of XNF on the day funds were wired, versus using a possible higher rate on the day funds were actually received. We know our customers, and realize how important our Price Guarantee is for them. Currently, users can only purchase XNF by wiring funds from their bank accounts, which can take up to five business days. This summer, XNF Trading will become a full exchange with a wallet-to-wallet feature, moreover, users will be able to purchase XNF with their credit and debit cards. We're giving our users easy access to the Ripple network and to Nofiatcoin, which will exponentially expand our reach and revenue."
In regards to institutional investors, the company is in talks with many interested parties and is currently working on setting up mechanisms to prevent any dumping of XNF. This is another of several operational priorities of Tilmore Investments. Once these mechanisms are in place, XNF Trading will be able to accept larger purchases from major buyers. Moreover, the company affirms that "big money is headed their way" via the purchase of company shares, which is not to be confused with the purchase of company coins. Last week, XNF reached a peak value of $20USD on the secondary market, a great sign for all types of investors interested in the currency.
Currently, Tilmore Investment is in the process of consolidating most of their efforts in Punta Cana, Dominican Republic. Operational branches in The Netherlands, Germany and Malta will be shut down, while the international marketing efforts (China, Brazil, Japan), and representative offices (Hong Kong, Brazil) will all remain in place.
About the company:
Nofiatcoin | XNF is the first cryptocurrency to be backed by bullion, supported by a virtual exchange, which provides another way in and out of the digital currency world. The coin can be purchased via XNFTrading.com and it is currently traded on the Ripple Network. Tilmore Investments S.R.L., the company behind Nofiatcoin, is located in Punta Cana, Dominican Republic.