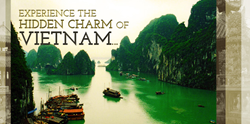 Hanoi, Vietnam (PRWEB) May 31, 2014
Smile Travel Vietnam was founded in 2008. Thanks to the friendly and dedicated staff with professional working manners, the company has become one of the top ten travel agencies in Vietnam. It offers a wide range of services in terms of renting cars, airfare, and tour packages. Recently, the company has upgraded its online booking tour system to provide better, faster and more affordable services.
When they access the home page, visitors will find more tips for traveling. There are many tours suggested on the website. Specially, the Smile Travel Vietnam agency provides a lot of tours to North and South Vietnam with different types of tourism. The site also lists highlighted destinations in Vietnam such as Sapa, Hanoi and Cuulong Delta. After choosing a reasonable tour, the travelers will take the second step: "Filling in the booking details table". They need to fill in the information required. When trip details and personal details are completed, passengers just have to click: Send Request. Then, wait for a confirmation email from the sale department.
Besides listed tours on its website, tourists are always able to send an order to make a special tour as they desire via email: sales(at)smiletravelvietnam(dot)com
The staff are highly professional and well-trained to meet the demand of all customers. Not only has the company upgraded the interface and booking system, but it also has provided up-to-date information about Vietnam tourism.
For more details, please contact at sales(at)smiletravelvietnam(dot)com or call +84-976-127-023.