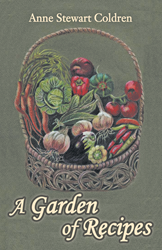 Fun facts – and the colorful illustrations by the author that accompany them – enliven this practical new resource for cooks of all abilities.
Fleetwood, PA (PRWEB) May 30, 2014
Anne Stewart Coldren began her culinary lessons as a child sitting in the kitchen watching her grandmother and great aunt prepare the family's Sunday dinner. Decades later she has compiled a selection of her own recipes in this new cookbook that includes historic and culinary facts about each fruit and vegetable.
"A Garden of Recipes" features produce of all kinds, grouped by the fruit or vegetable that stars in each. This format allows readers facing plentiful harvests to easily find dishes in which to incorporate their produce. For instance, some of the tomato recipes include baked ratatouille, tomato pudding and fried green tomatoes. Squash lovers can experiment with pickled zucchini, bacon bit soup and even desserts such as zucchini flan or chocolate zucchini cookies.
As noted in the recipe book, the cucumber was used for 3,000 years in Asia, originating from India, and the Roman emperor Tiberius had cucumber on his table every day. Such fun facts – and the colorful illustrations by the author that accompany them – enliven this practical new resource for cooks of all abilities. Coldren has gathered recipes for everything from carrot lemonade and barbecued green beans to cranberry cabbage, cucumber dressing, blackberry dumplings and sesame chicken salad. She hasn't forgotten dessert, but it might be hard to select just one since readers can choose from orange sponge cake, strawberry chiffon pie, peach cobbler, pumpkin fig bread and apple carrot bake, just to name a few.
Author Anne Stewart Coldren studied French cuisine with Jon Lou'ie at Stone House in Exton, Pa. She began the annual spring luncheon for the Berks County Historic Preservation Trust and has an extensive collection of cookbooks, some of which date back to the 18th century. Her love of garden produce comes from her father, who had a garden at his shop and gave away its vegetables.
----------
For additional information, please visit http://www.agardenofrecipes.com.
A Garden of Recipes
Anne Stewart Coldren
Dog Ear Publishing
ISBN: 978-1-4575-2388-5 212 pages $26.00 US
Available at Ingram, Amazon.com, Barnes & Noble and fine bookstores everywhere.
About Dog Ear Publishing, LLC
Dog Ear Publishing offers completely customized self-publishing services for independent authors. We provide cost-effective, fast, and highly profitable services to publish and distribute independently published books. Our book publishing and distribution services reach worldwide. Dog Ear authors retain all rights and complete creative control throughout the entire self-publishing process. Self-publishing services are available globally at http://www.dogearpublishing.net and from our offices in Indianapolis.
Dog Ear Publishing – self-publishing that actually makes sense.