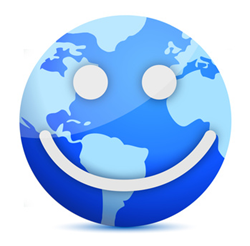 Happiness isn't the absence of unhappiness. It's being able to embrace all of your emotions including happiness.
Dallas, TX (PRWEB) May 31, 2014
A poll released earlier this month by Gallup ranked 138 countries on a happiest scale by asking adults a series of questions about their previous day. The top spot was taken by Paraguay for the third year in a row, while four other countries in Latin America—Panama, Guatemala, Nicaragua, and Ecuador rounded out the top five.
"These findings are not all that surprising," said Pamela Gail Johnson, Founder of The Secret Society of Happy People (http://sohp.com). "We know that the wealth of a country is not the only factor in determining happiness. Money doesn't buy happiness."
The Gallup Poll asked five questions to each adult about the previous day:

Did you felt rested?
Did you feel you were treated with respect?
Did you laugh or smile a lot?
Did you experience enjoyment?
Did you learn or do something interesting?
What the pollsters found out is what was driving people's positive feelings and sense of community, enjoying work or school, and financial security all came back as factors, though they didn't always prove to result in the happiest people, while civil unrest in war-torn countries such as Syria, which came in the lowest, had a direct impact on people's happiness.
"The results are an interesting read because the researchers found that the countries in Latin America that ranked as the happiest, the adults reported a lot of negative emotions too, perhaps showing that they were more in touch with their emotions, and more able to identify them," said Johnson.
The Secret Society of Happy People has a free Happiness Counter download that enables people to identify their happy feelings throughout the day in order to boost their overall wellbeing. "When we intentionally take notice of our feelings, we tend to take less for granted, and those positive feelings have an accumulative effect of our overall happiness," said Johnson.
The Happiness Counter download is available at http://sohp.com/happiness-counter/. "The Happiness Counter can be used during a specific period of time from as little as 30 minutes to a day to boost your happy thoughts. I'd encourage parents to do it with their kids or co-workers to try it at work to see how it affects their day," said Johnson.
About The Secret Society of Happy People:
Pamela Gail Johnson founded the Secret Society of Happy People in 1998 to encourage the expression of happiness and discourage parade-raining. SOHP has thousands of members from more than 34 countries. Ms. Johnson is a public speaker for organizations and companies around the country who want to promote happiness among their members or employees. The Secret Society of Happy People offers memberships to anyone interested in learning how to improve their happiness quotient. The free membership includes a downloadable Happiness Word Poster, a monthly Happiness Happens newsletter and an optional Daily Happiness Inspiration email. The society also offers videos, books and daily inspirations to promote happiness.
Media Contact:
Pamela Gail Johnson
(972) 459-7031
(469) 358-3914