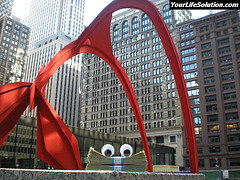 I don't intend to be merely an 'online life insurance agent'. I believe that a significant marketplace is underserved and that I soon will have the credentials and resources to tap into it
Chicago, IL (PRWEB) May 30, 2014
Eric Smith, the founder and online life insurance agent behind YourLifeSolution.com, has yesterday completed the fourth of eight courses in his Chartered Life Underwriter designation. "My plan is to finish my CLU designation within the next 18 months and simultaneously hire several agents under me. Thereafter, I intend to enter the pension and estate planning markets. The goal is to utilize the CLU designation as a means to open doors into more affluent markets," said Eric Smith.
Eric Smith intends to hire his first agents and acquire business licensing to do so in the year 2015. "I don't intend to be merely an 'online life insurance agent'. I believe that a significant marketplace is underserved and that I soon will have the credentials and resources to tap into it," said Eric Smith.
Consumers interested in acquiring instantaneous life insurance quotes are encouraged to visit YourLifeSolution.com, or contact Eric Smith at 888.374.2764.