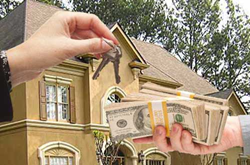 "Strict lending standards combined with low inventory continue to give the advantage to investors and other cash buyers in this housing market." ~ Daren Blomquist, vice president at RealtyTrac.
Minneapolis, Twin Cities Minnesota (PRWEB) May 30, 2014
All-cash home sales have generously doubled in the last 12 months, rising from a 19.1 slice of all home sales nationwide in quarter 1 of 2013 to 42.7 percent in the first quarter of 2014, according to RealtyTrac's latest housing data.
"Minneapolis home buyers facing tight inventory and who are determined to win a bidding war are pulling cash out of other reserves to own a buyer's advantage and the keys to the home", says Jenna Thuening, owner of Home Destination. "Even qualified homebuyers who typically finance their home buys with a loan are opting to put in all-cash offers for a edge over other bidders."
The swell in all-cash home sales mystifies housing experts who note the drop in investors who are renowned for house flipping cash purchases, or who buy for rental income. According to USA Today's summary of the report, there is a notable increase in "retirees who can tap into their retirement accounts also are paying cash for second homes". Economists offer the explanation that recession produced stricter mortgage regulations and a shortage of homes for sale has culminated in a more competitive housing market for younger buyers.
"Buyers are finding creative ways to come up with the cash," said RealtyTrac Vice President Daren Blomquist. "We hear a lot about folks using their IRAs to buy properties with cash because they know cash will get them to the front of the line. If they have the ability to, homebuyers will put up cash bids."
As a trusted real estate research firm, RealtyTrac's assessment that current levels of all-cash home purchases may be tapering off. Blomquist predicts the nation will see a greater percentage of homebuyers coming to the closing table with financing in the second half of 2014. "There is a finite pool of people who can pay cash," he said.
According to RealtyTrac, the average sales price of an all-cash transaction in Q1 of 2014 was $207,668, that is 13 percent under the average estimated full-market value of the sold homes involved. This represents the power all-cash buyers have when the sellers wants to walk away without the strings of a mortgage involved.
In the 13-county Twin Cities region, buyers often change the actual dollar amount of what they put down in cash and what they finance, according to the Minnesota Association of Realtors
On April 23, MinnPost published an article titled Go Figure: 25% of Twin Cities home buyers paid in cash. It stated that "25.1 percent of buyers in March paid in cash. In fact, that share has held steady for the last two years, up from about 5 percent in 2006".
All-cash buyers may be ousting their competition. "We find that some first-time home buyers in the Twin Cities, who are dependent on obtaining a home loan, may have to bid on more than one home," adds Thuening. Lenders' tightened lending requirements impact buyers who must borrow and find it challenging to compete with cash buyers. Millennials looking to buy a first home often find that student loan debt becomes a barrier.
Contact Home Destination at 612-396-7832 if you are a Twin Cities real estate buyer