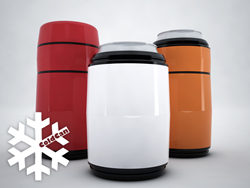 Now on Kickstarter - ColdCan – The Only Modular Beverage Insulator to use Spacesuit Technology to Lock in the Cold.
Houston, Texas (PRWEB) May 06, 2014
ColdCan dares drinkers to break status quo with a re-imagined and modernized beverage insulator that works for 12 and 16 ounce cans as well as bottles. Already at 11% of its funding goal on Kickstarter (here http://kck.st/1h6Jggu ), ColdCan shows multiuse modular design has drinkers buzzing for this better beverage insulator.
"The ColdCan picks up where foam koozies left off," says Brian Krepshaw in his recent article written about ColdCan on CNET.
The ColdCan keeps cold drinks colder, longer, by using spacesuit insulation technology to lock in the cold. The first-ever drink insulator holds 12 ounce cans or 16 ounce cans with a simple snap on Riser attachment. With patent-pending universal fittings and modular design, the ColdCan is designed to include additional attachments for drinking from bottles and cups.
Co-creators, T.J. Henderson and Justin McCullough began creating the ColdCan in 2012 as an answer to a simple question – "why is everyone still using cheap, ineffective, foam koozies for cans and bottles when everyone knows they don't actually keep drinks cold?" The answer is clear; lack of innovation or use of current technology and therefore no product options for a truly attractive and functional drink insulator. "Apparently the bravest thing to happen to the koozie took place decades ago when its price dropped to pennies and everyone figured out how to slap a logo and business address on it," claim the creators of the ColdCan.
After two years of designs and prototypes, the ColdCan is now finalized and completely engineered to be stylish, attractive, modular, and effective. "Everyone loves the concept, the prototypes and how it works," says co-creator T.J. Henderson, "we're proud of the ColdCan and we feel like it's the kind of product that's just as relevant and cool as the people who drink from them."
The ColdCan is now available for backer support on Kickstarter.com and will be available in the summer of 2014. "We're using Kickstarter to launch the ColdCan because as fellow backers, we're a part of that community and feel like it's filled with like-minded people who love good products, good design and being a part of creating something great," said Justin McCullough, co-creator.
The ColdCan is made of BPA-Free Polypropelene, Santoprene rubber, and Cryogel, a derivative of the same substance (Silica Aerogel) used in NASA spacesuits. The ColdCan beverage insulator includes the Core unit for 12 ounce cans and the Riser attachment for 16 ounce cans. The ColdCan has a patent-pending modular design, spill-proof lid, and is lightweight, impact-resistant, floats and fits most cup holders. Both the ColdCan Core and Riser attachment are available in seven colors; Polar White, Black Ice, Frosted Steel, Pink Flurry, Icicle Blue, Red Crush and Orange Chill along with two premium design patterns; digital camo and hunter's camo. With all materials sourced and manufactured in the United States, the ColdCan is 100% American made. Learn more at http://www.TheColdCan.com .
Support the ColdCan on Kickstarter http://kck.st1h6Jggu and bring new life and innovation to drinking cold beverages.
For more information contact
Justin McCullough, COO and Co-Creator at jm(at)thecoldcan(dot)com or call 409.550.6681.
About ColdCan
ColdCan, LLC is a Texas-based manufacturer of the ColdCan, the world's finest beverage insulating system which uses patent-pending modular design and Cryogel insulating material. The ColdCan Core and Riser are designed for drinking from 12 ounce and 16 ounce cans. For more information, visit http://www.TheColdCan.com.