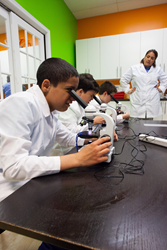 Science should not be presented to students as a set of facts. The fun aspect of science is the unknown.
Oakton, VA (PRWEB) May 21, 2014
The combined brainpower of Ursinus College and the innovation of Oakton-based ideaventions are coming together to produce an exceptional BRAiN program that will enrich Northern Virginia and surrounding communities as highly motivated middle school students produce valuable new research.
BRAiN—or Biomedical Research Academy in Neuroscience—is led by resident scientist Catherine Swanwick, Ph.D., in conjunction with the laboratory of Carlita Favero, Ph.D., of Ursinus College. Favero will provide biological tissue and advise curriculum design for the program, which aims to teach rising 6th-8th graders key concepts of cellular and molecular biology while introducing them to laboratory techniques common for biomedical research. The students will investigate the effects of prenatal alcohol exposure on brain development using the brains of mice.
"Science should not be presented to students as a set of facts," said Swanwick. "The fun aspect of science is the unknown. In our BRAiN program at ideaventions, our students will be given the opportunity to make new discoveries using an entirely different set of scientific criteria."
The students, only eight of whom will be selected from a competitive pool of gifted youngsters, will write an abstract to be considered for the Society for Neuroscience Conference in 2015.
Two phases of the BRAiN program will be offered: a two-week summer course and a 2014-2015 school-year program. The summer course will be held Aug. 4-15 at Sunset Hills Montessori School in Reston, Va. The school-year program will be conducted from mid-October until May at the ideaventions science center in Oakton, Va. For those students interested in the school-year program that were unable to attend the summer course, ideaventions will offer a short six-week BRAiN Blast course in early Fall to cover material taught during the summer session.
Highlights of BRAiN include:
● expert research mentor
● access to modern biomedical research
● application of scientific method
● small class size
● practice with research presentation skills
● visit to the 2014 Society for Neuroscience Conference
Eligible students should apply by May 30 (summer program) or July 15 (school-year program).
For more information, please contact Ryan or Juliana Heitz (Co-Founders, ideaventions, rheitz(at)ideaventions(dot)com, jheitz(at)ideaventions(dot)com, 703-255-7202) or Catherine Swanwick, Ph.D. (Director of Life Sciences Programs, ideaventions, cswanwick(at)ideaventions(dot)com), 703-255-7202.
Ideaventions™ is a science and technology enrichment center geared to children ages 3 to 13. They teach a range of science, technology, engineering and mathematics classes throughout the year at their Science Center located at the Hunter Mill Plaza in Oakton, Virginia. They also run science camps, do after-school programs at local schools, develop new STEM curriculum and lots more. ideaventions is a place where no idea is too crazy and where children, the adults of tomorrow, learn that anything is possible with a little creativity. Their hands-on labs are led by experienced teachers who emphasize divergent thinking and seek to harness a child's natural curiosity about the world. Programs are designed to share and nurture children's love for the sciences.
###