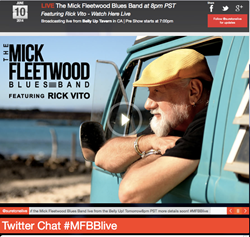 This is going to be a great experience for both artists and music fans. This is the definitive and only entertainment site for artists to present concerts and engage with fans around the world
Santa Monica, CA (PRWEB) June 10, 2014
Suretone Entertainment and Cinsay announce their first online live music event on, SuretoneLive.com. The initial performance will be free and feature the Grammy nominated group, The Mick Fleetwood Blues Band and will be a live concert event streamed online around the globe and in HD from The Belly Up Tavern in Solana Beach, CA.
This exclusive event will not only showcase legendary rock & roll and blues star, Mick Fleetwood and renowned Blues artist, Rick Vito, but will also launch the next evolution of online music entertainment, seamlessly bundled with social sharing and eCommerce. Viewers will have exclusive opportunities to purchase VIP packages of Fleetwood Mac's fall tour, merchandise from Mick's restaurant and venue, 'Fleetwood's' on Front Street and buy one of a kind items autographed by members of the band.
"This idea makes perfect sense for musicians. This is going to be a great experience for both artists and music fans. This is the definitive and only entertainment site for artists to present concerts and engage with fans around the world," said Mick Fleetwood of The Mick Fleetwood Blues Band.
The 8-camera, HD live music stream will feature several interactive components where fans can share the video and embed it on their own Facebook and tumblr pages, and have the ability to purchase exclusive merchandise – all inside the video and without having to link out or leave the virtual concert experience.
"The entire music industry's long standing question of 'how do we monetize music online and inside social media globally and allow fans to interact directly' has been answered. "Its simple, SuretoneLive.com powered by CINSAY's content to commerce platform is the only complete answer," said Jordan Schur, Co-Founder of Suretone Entertainment.
Carl Stubner, Co-CEO of Suretone Entertainment said, "The launch of SuretoneLive is the single most exciting opportunity that I've ever been involved with in the music industry for my nearly 25 years music career. This will revolutionize how music is watched, shopped and shared worldwide: it's a huge win-win for every artist or music festival and their fans."
Earlier this year, Cinsay and Suretone Entertainment announced the formation of SuretoneLive and the response from the partnership has been extremely positive from artists, fans and advertisers within the music industry.
SuretoneLive.com will be announcing additional upcoming live events as more artists join the premiere broadcast network. Music fans will be able to choose from various live performances hosted in famous venues across North America as well as share the music with friends and family via Facebook, twitter, Tumblr and on other social media sites. Each event will also showcase exclusive merchandise from those participating artists including some one of a kind collectibles, which will be available only on SuretoneLive.com
:: Details of SureToneLive.com Fleetwood Blues Band Event:
What: The Mick Fleetwood Blues Band
When: Tuesday, June 10, 2014 at 8:00 PM PST / 10:00 PM CST (Pre Show at 7:00 PM PST)
Where: Belly Up Tavern, Solana Beach, CA and live at http://www.SureToneLive.com
Hashtags: @SureToneLive #OnWithTheShow #MFBBlive