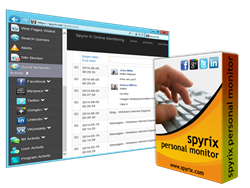 (PRWEB) June 10, 2014
Spyrix is proud to announce the launch of the complimentary version of their internet monitoring service. Spyrix Free Keylogger is designed for home use. Parents and guardians can now monitoring their children's or teens' internet activity.
Main features of Spyrix Free Keylogger

New Remote monitoring via secure web account
Keylogger (keystrokes logging)
100% undetectable to antivirus software
Remote monitoring from any place and any device (PC, tablet, smartphone)
Remote Uninstallation
Apps activity
Screenshots capture
Analytics module
User Activity
Removable Drives (USB, HDD, SD) monitoring
Printer Monitoring
According to the Pew Research Center, 93% of teens ages 12-17 go online. The internet is full of seemingly innocent pages behind which dangers lurk for unknowing children. Predators masquerade as classmates to lure children and teens to talk with them.
The online monitoring market has numerous applications including free ones that allow monitoring of children's activity on PC. The main disadvantage of these applications is the need of direct access to the target PC for viewing activity logs.
The new version of the famous Spyrix Free Keylogger simplifies the monitoring activity. All parents need to do is install the application on the PC. This grants them access to the Spyrix.NET service that allows remote activity monitoring from any device (PC, laptop, tablet or smartphone) from any place in the world at any time.
All data received from the monitored computer on Spyrix.NET is protected. Access is limited so that only the Spyrix subscriber can access the information.
Spyrix offers a paid solution with an expanded set of functions. It is Spyrix Personal Monitor. Customers get a complete surveillance system using web camera and microphone and also the opportunity of activity monitoring in social networks (including Facebook), IM chats (e.g Skype) and email.
For more information or to download Spyrix Free Keylogger and Spyrix Personal Monitor applications and connect to the Spyrix.NET service, visit http://www.spyrix.com/.