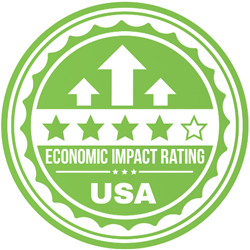 Imagine if several large companies did this. You're talking about an impact that could change the trajectory of our economy.
Manchester, N.H. (PRWEB) May 30, 2014
The Economic Impact Rating Program announces that Sharon's Granola of Derry, N.H. has channeled $30,000 in increased cash-flow through the New England economy byway of their certification program and consulting services.
Sharon's, a gluten-free granola, offering a variety of locally sourced products, worked with the Economic Impact Rating to complete their supply chain audit.
Using a patent-pending system, the program produces an Economic Impact Rating that is based on a one- to five-star scale. The system looks at the price tag in order to gauge job creation and economic growth created through purchase of that product. It looks at where factors like jobs, taxes, charity, ingredients, and components are distributed.
The Economic Impact Rating Certification Mark is displayed on packaging, signage, or advertising—similar to other certification marks like Organic Certified or Free Trade Certified. A variety of Economic Impact Rating Certification Marks are available, each specifying a specific geographical radius—such as a state like California, a region like New England, or the USA.
After speaking with consultants at EIR, Sharon decided her Blueberry Vanilla product line would benefit most from displaying the New England Economic Impact Rating Certification Mark.
The initial rating for the granola company was below what the company expected. "We found out the initial results and then consulted with the analysts to see if we could raise our score," says owner, Sharon DiRusso. "They not only helped us source more local with some ingredients being cheaper than our past suppliers, but they gave us a unique in-depth story to show consumers about our impact."
The adjusted supply chain connected Sharon with more local vendors and suppliers and increased her profits. The change also resulted in an added 2.5% of each sale to the Wounded Warrior Project arm of New Hampshire. The National project provides unique, direct programs and services to meet the needs of injured service members and has helped over 300 wounded veterans find work.
The reworked supply chain will also channel $30,000 more in cash-flow that will stream through the New England economy. The influx of cash means more jobs, more local tax revenue and so more economic growth in New England.
"Imagine if many small companies did this," says Anthony Comito, founder of the Economic Impact Rating. "Imagine if several large companies did this. You're talking about an impact that could change the trajectory of our economy."
A former tax accountant and small business consultant, Comito compares this rating system to other trusted certification marks such as the LEED certification program for green building or the USDA Organic certification mark.
"Studies continue to show a rising interest in Google searches for local and Made in USA products," adds Comito. "People want a trusted way to find these products just as they do organic certified food or responsibly built industrial products and that is what drives our mission."
The Economic Impact Rating, an independent certifier of products and services, helps businesses show their economic impact, by giving consumers the information they need to support businesses that strive to create jobs, contribute taxes and capture cash flows in the community. The rating is a patent-pending, third-party mark placed on packaging, websites or marketing material showing consumers, on a 5-star scale, how much of a product's price-tag is being captured in an area. For more information, follow them on Twitter @EconImpact, Facebook or connect on their website http://www.economicimpactrating.com/.
Sharon's Granola is a gluten-free, vegan and organically sweetened granola company. Sharon's makes heart healthy, body-friendly granola because our food should not only taste great but should make you feel even better. All of our ingredients are hand selected to make the right choice for a healthy you. Like them on Facebook to learn more or check out their website http://www.sharonsgranolabar.com/.