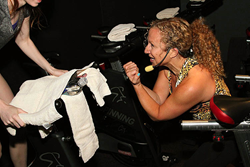 Montvale, NJ (PRWEB) May 30, 2014
Need something fun to lure you to the gym? A group fitness class could be the ideal solution for anyone who is a little leery about making that commitment to a new workout routine. The variety of classes to choose from and great music will get you pumped to add in some exercise to your busy schedule.
Need more motivation to try a group fitness class? Here are the top five:
1. Have Fun And Meet New People—Group workout routines can be just the inspiration you need to grab your sneakers and hit the gym. Meet a new workout buddy and try a new class. Once you find one you enjoy, you'll stick to your exercise routine and your new friends will help you keep your fitness goals on track.
2. Exercise Your Entire Body—Taking a group fitness class will not only structure your workout, it will ensure you use muscles throughout your whole body. From arms to legs to abs, you will be burning calories under the guidance of an instructor. The structured fitness routine will create that no excuses motivation you need to get into shape.
3. All Levels Are Welcome—Group fitness classes are not for athletes only. Beginners new to the gym can try them all. So don't be intimidated by the notion that dancers and Olympians are the only ones frequenting classes. Try one, or try them all, and let the classes help you enjoy exercise again.
4. Learn Something New - New classes help you learn new techniques that can improve your fitness level. You may pick up a new skill you never would have known you had. From yoga to dance to kickboxing—a group fitness class lets you sample different, exercise options. Pick your favorite and stick with it!
5. Save Time—Finding that time each day to head to the gym and squeeze in cardio, abs and weights can be tough. A group fitness class saves you time by condensing a powerful, calorie-burning workout into one hour. Working each muscle group combined with that heart-healthy cardio is an effective and efficient way to get into shape.
Lisa Bruchalski is the Group Fitness Director at THE GYM of Montvale and can be reach at 201-802-9399 or via e-mail at lbruchalski(at)gettothegym(dot)com.
THE GYM of Montvale
2 Chestnut Ridge Road
Montvale, NJ 07645
201-802-9399
http://www.GetToTheGym.com/montvale
About THE GYM of Montvale
THE GYM is a complete lifestyle and fitness center, designed to promote healthy living in a first class atmosphere. Its unique approach integrates specialized training programs with nutrition and weight management counseling for total body conditioning and optimal fitness. THE GYM is known for its superior quality equipment, expert staff and special amenities, including a clothing boutique, juice bar, and child play area. The staff's attentive service and the facility's array of programs and services provide guests with a state-of-the-art experience.