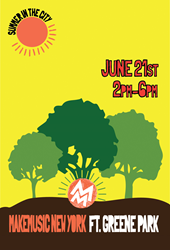 Arts+Crafts is proud to be part of Make Music New York - the largest music festival in NYC.
Brooklyn, NY (PRWEB) May 30, 2014
Arts+Crafts has partnered with Make Music New York (MMNY) and NextDoor.com to host its first Summer In The City event at Ft. Greene Park, Saturday, June 21. The day-long event is part of MMNYs annual musical celebration, representing every musical genre, from hip-hop to opera.
In its eighth year, MMNY has become the largest music festival in the city, even breaking its own records with more than 1,350 free concerts scheduled throughout all five boroughs of the city this year.
"Arts+Crafts is proud to be part of Make Music New York's cultural celebration," said Fernando Grierson, A+C marketing director. "Not only are we able to provide a platform to feature musicians who are dedicated to their artistic passions and the city's art scene, we're able to create partnerships with institutions dedicated to connecting the city (and its art scene) to neighborhoods throughout the borough."
Summer In The City: Make Music New York at Ft. Greene Park is the first installment of a series of events planned throughout Summer 2014 by Arts+Crafts to bring music and culture to NYC boroughs. A+C has already partnered with NextDoor.com, for its dedication to creating and supporting neighborhood connections, and MoCADA, for its award-winning cultural programming, to connect neighborhoods throughout the borough of Brooklyn. A full lineup of events and additional partnerships will be announced in mid-June.
Arts+Crafts' Summer In The City: Make Music New York at Ft. Greene Park takes place, Saturday, June 21, from 2pm - 6pm at Fort Greene Park. Featured performers include Meridian, Maritri Garrett, Fresh Daily, (i am) isis, The MisUnderstanding, Red Sahara, and African Americana. The event will be hosted by Mic El of HeavyLight with DJ CEO on the 1s and 2s.
The event is free to the public, no tickets required. For a full schedule of Make Music New York events, visit makemusicny.org. For more information on Art+Crafts and its upcoming events, visit artscraftsinc.com.
###
About Arts+Crafts
It is the creative goal of Arts+Crafts to develop events that recognize the importance of giving neighborhoods amazing things to do and connect with one another, from concerts to beer & wine tastings to neighborhood festivals. Arts+Crafts is dedicated to creating the events for the communities it serves and experientials that communities will remember for years to come.
About Make Music NY
Make Music New York Inc. is a NYC-based nonprofit that organizes two annual, participatory musical celebrations: Make Music New York on June 21st, the summer solstice, and Make Music Winter on December 21st, the winter solstice. Now in its eighth year, Make Music New York, "the largest music event ever to grace Gotham" (Metro New York), is a unique festival of 1,000+ free concerts in public spaces throughout the five boroughs of New York City, all on June 21st, the first day of summer. MMNY takes place simultaneously with similar festivities in more than 726 cities around the world — a global celebration of music making. For more info, http://www.makemusicny.org.
About NextDoor.com
Nextdoor is the private social network for you, your neighbors and your community. It's the easiest way for you and your neighbors to talk online and make all of your lives better in the real world. Thousands of neighborhoods are already using Nextdoor to build happier, safer places to call home. We hope that neighbors everywhere will use the Nextdoor platform to build stronger and safer neighborhoods around the world. For more info, http://www.nextdoor.com