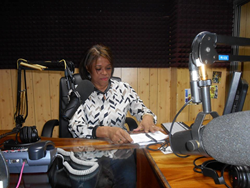 The grass only appears greener on the other side until you get to the other side.
New York, New York (PRWEB) June 04, 2014
Manning Edusei's "My Great" idea was well received by administrators and educators of various universities in Ghana West Africa during her March 2014 book tour there. Her plan is the formation of linkages with educators and other groups in territories which feed substantial numbers of immigrants to the US, such as Africa, Asia, Latin America and the Caribbean. Whether this initiative succeeds in curbing the insatiable desire to migrate or not is left to be seen over time. However, this author of the book "Lost Crossing BroadWay: 40 Survival Lessons for the Wise Immigrant," is determined to take her message across the nations where the need is greatest and where people will listen and understand.
Coupled with her overseas tours, Manning Edusei has, over the past 9 months, been guest on various radio and television shows within the US and Jamaica with plans to continue the dialogue during the remainder of this year. In a March 3, 2014 interview on Radio Jamaica's (RJR) 94 FM's morning show "Guest Room," Angie Manning Edusei expressed that although individuals will always move overseas for various reasons, migration is not the answer to the problems faced by people in the developing world. She also expressed that those who choose to migrate must seek legal avenues to do so, while finding out how to relocate and integrate successfully overseas. Manning Edusei reiterated these sentiments also in earlier interviews in New York with stations such as WGBB 1240 AM, a Long Island radio station and WVOX Wake-Up Radio in New Rochelle New York.
According to Angie Manning Edusei, countries such as the US and the UK are on the receiving end of highly skilled, qualified, talented, experienced, hard-working immigrants. However, immigration reform keeps resurfacing as a major issue because some policy makers and other stakeholders want to be able to 'eat their cake and still have it.' This, she feels is part of the gridlock and hindrance to an early resolution of the immigration reform / non-documentation problem. In addition, the settlement challenges faced by legal immigrants after relocating overseas seem to be just as turbulent as the difficulties encountered in Washington to solve the problem of the almost 12 million undocumented immigrants living in the US. "However," notes Manning Edusei, "the irony seems to be that many legal immigrants want to leave shortly after relocating while the undocumented want to remain." Angie Manning Edusei is of the view that addressing the current deluge of undocumented people without a simultaneous campaign to stem the ongoing influx of new ones into the country will result in a continuation of the current cycle. That is, the same issue will re-surface within a few years after the numbers have built up once more and the problem becomes so huge that it has to be addressed urgently and aggressively.
Angie Manning Edusei's "My Great" initiative is expected to kick-off officially in West Africa and the Caribbean by October 2014.
Angie Manning Edusei is an author, people advocate, economist, educator, investment banker and leader with a passion for serving her community. Her work of three decades spans as many continents including North & South America, Europe and Africa as both a regionalist and a global mover and shaker of people's rights. The former CEO of Jamaica's Consumer Affairs Commission was the powerhouse behind the shaping of the Consumer Protection Act (2005) in Jamaica and one of the leading voices in the movement to harmonize consumer protection in the Caribbean. Her move to the United States expanded into various countries where her sense of fairness sharpened her advocacy for multiculturalism and a deeply committed philosophy of "one world one people. Manning Edusei's website, http://www.angiemanning.com, serves as a resource for immigrants.