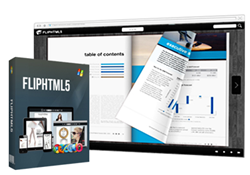 (PRWEB) June 01, 2014
FlipHTML5 is once again pleasing its clients by providing easy-to-follow tips for making HTML5 enabled digital magazines. The company is known for its various user friendly digital magazine publishing solutions that are making publishing easier and more attractive for users. If experts of the fields are to be believed, releasing these simple to follow and step-by-step guidelines will be helpful for new users who are looking forward to connecting with Flip HTML5 in order to make their publishing better.
A number of companies in the market today are attracting customers via various mediums and looking for effective ways to engage their customers. Digital magazines that are created with HTML5 format are making it easier for companies and brands to connect with more viewers and engage their current customers via multiple channels. Though the software is easy to use, people who are new may find a few problems. FlipHTML5 is helping those users by launching some tips on HTML5 e-magazine design.
Some of the effective tips from the company include correctly the use of media in a digital file. Adding too many media files such as animation, video, audio and images in one file would cause some users to become overwhelmed. So the company advises clients to integrate only appropriate media into a magazine.
Secondly, FlipHTML5 maintains the original percentage of an imported file. A flipbook measured on percentage will be much better that on pixels, as percentage is the perfect measurement when it comes to cross-platform compatibility and scalability.
Thirdly, Meta settings, including title, description and keywords, should be carefully customized to make the flipbook search engine friendly. The optimized settings of the file help in easy indexing by Google. The book is able to reach thousands across the globe because of the reason.
For more information, go to http://fliphtml5.com/.
About FlipHTML5 Software Co., Ltd
FlipHTML5 Software Co., Ltd is a renowned name when it comes to digital publishing software. Using the software offerings of the company, users can make digital web content digital, online user manual, flip PPT presentation, flipping e-magazines and flip slide photo album.