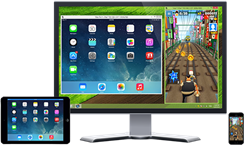 Mirror and record iOS screen on Windows PC
(PRWEB) May 31, 2014
X-Mirage Inc. announced today the release of AirPlay receiver for Windows – X-Mirage, which is focused on turning Windows PC into an AirPlay receiver. People may be familiar with AirPlay receivers such as Apple TV and X-Mirage for Mac, which lets users wirelessly stream what's on iOS devices to HDTV and Mac respectively. Now with the release of X-Mirage for Windows, users can turn Windows PC into AirPlay receivers and receive contents from iPhone, iPad, iPod touch and Mac running OS X Mountain Lion or later.
X-Mirage for Windows makes it possible for users to stream video, audio, slideshow; mirror iPhone, iPad, iPod touch, Mac screen; and record iOS screen activities on Windows PC.
Make sure the iOS devices and Windows PC are connected to the same Wi-Fi network. Tap the AirPlay icon in any AirPlay-enabled to stream any contents to Windows PC in up to 1080p HD, making it the simplest wireless way to play stuff from iOS devices on the bigger screen. X-Mirage offers quality lossless movie, music, slideshow, and game streaming from iOS devices to Windows PC, giving users more possibilities to enjoy iOS contents on Windows PC screen.
AirPlay Mirroring lets users project exactly what's on the iPhone, iPad, iPod touch or Mac screen to the bigger Windows PC screen, full screen mode supported. For teachers who have connected the classroom Windows PC to projector, just mirror iPad screen to the Windows PC, then any contents on the iPad is displayed to the whole class via the projector. X-Mirage for Windows also supports simultaneous multiple connections, which means students can project works simultaneously for comparison and discussion. Besides, AirPlay password protection can prevent unwanted protection.
X-Mirage for Windows' built-in recording button makes it extremely easy to record iOS screen activities. Record how to play iOS games, app tutorials, or teaching materials etc. to MP4 video for uploading online and local playback.
X-Mirage for Windows provides free 7-day trial. Interested customers can download the free trial version at http://www.x-mirage.com/download.html. To learn more about the Airplay receiver and recorder for Windows, visit http://www.x-mirage.com.
About X-Mirage
X-Mirage Inc. is dedicated to providing better user experience for iOS device users. X-Mirage Inc. has released the versatile AirPlay receiver for both Mac and Windows, letting users enjoy anything from iOS devices screen on the bigger Mac and Windows PC display.