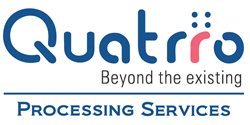 Atlanta, Georgia (PRWEB) May 30, 2014
Quatrro Processing, a leading provider of Cards Processing, Risk and Fraud Management Solutions, today announced it is one of the first processors globally to achieve Payment Card Industry Data Security Standard (PCI DSS) v3.0 certification. The PCI DSS Version 3.0, released November 2013, is one of the most stringent security standards in the world based on the industry best practices aimed at increasing protection for customers against card fraud by limiting exposure of confidential data for both online and offline transactions.
The Standard also helps processors to implement tighter controls and promote awareness of security throughout their organizations so that all stakeholders share responsibility to protect cardholders' data. This becomes even more critical considering the recent breaches that exploited weakness in technical controls. Hence, it's highly imperative that companies migrate to a process based security approach enforced by PCI DSS v3.0 standards and measures.
"The PCI DSS v3.0 certification will significantly help us offer highest possible payment security and truly differentiated services to our clients through our recently launched card processing services built on non-legacy and EMV compliant Card Management Software," said Raman Roy, Chairman of Quatrro. He added, "Quatrro provides Card, Check, ATM, ACH transaction monitoring services to Banks and Financial Institutions in USA dealing with financial information of millions of end customers. Operational frameworks and industry certifications that foster information security are an integral part of our offerings and value proposition."
About Quatrro Processing
Quatrro Processing caters to opportunities in Global Payments industry covering Cards Processing, Payments Processing, Fraud & Risk Management and Analytics. Quatrro's services links both conventional and alternative payments to a non-legacy based global processing platform to ensure financial institutions and banks remain at the forefront of change. The service offerings help banks, credit unions and other financial institutions fulfill the dynamic and ever changing customer needs, payment modes and patterns with urgency and timeliness that the marketplace demands without any upfront investments in technology and infrastructure.
Quatrro's full suite of fraud management solutions protect clients throughout the payment life cycle across all products and channels using advanced fraud analytics to fraud management platforms. The company is uniquely positioned to offer superior fraud protection to financial institutions, payment gateways, processors and program managers. In essence, Quatrro deploys solutions to provide significant return on investment to the customers. To learn more about Quatrro Processing, visit http://www.QuatrroProcessing.com