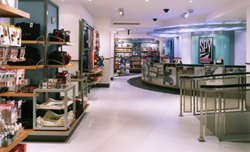 London, UK (PRWEB) July 04, 2014
In order to preserve their dignity and wealth, many turn to technical spy gadgets, some of which are used by Special Forces in the West. To that end, Spy.eu is proud to announce the reopening of their refurbished website. Available in eight languages, the easy to use graphic interface is easily navigable for curious visitors and long-time adventurous customers alike. Spy.eu creators embrace the concept 'live and let live,' and recommend the use of their products when necessary.
Spy.eu contains an enhanced stock of spy equipment and covert surveillance technology including proactive tools such as listening devices, audio recorders, GPS trackers, and hidden cameras. Also available are reactive technologies like bug detectors, endoscopes, and dummy cameras. Spy.eu's range of professional grade gadgets are acknowledged by many spy specialists for their features and capabilities. Product quality is guaranteed by the store representatives who are based in some of the largest European countries.
Also housed on the re-launched Spy.eu website is the Spy.eu blog that is complete with dozens of articles concerning the proper way to use their gadgets, explanations of spy and technological jargon, tips and tricks for device set-up, and the advantages and disadvantages of certain devices depending on the situation and their functional capability. Spy.eu maintains a presence on social media sites including Facebook and Twitter. In addition, the Spy.eu YouTube account contains exclusive video of devices in their out of the box conditions, eliminating any doubt as to what is included with a purchase.
About Internet Traders Group, LTD. and Spy.eu:
Created by Internet Traders Group, LTD., Spy.eu is the premiere European website for spy gadgets and surveillance technology. Believing in the idea of personal privacy and safety, Spy.edu considers the ability of the consumer to protect that a top priority. With a wide array of the latest spy accessories, Spy.edu contains information regarding recent sales, discounts, and product information. To learn more, please go to http://spy.eu/