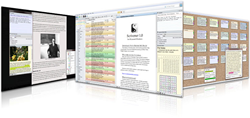 "This is really a huge free update and release - there are over five hundred fixes and enhancements, and more than fifty new features, changes and improvements." - Scrivener's Windows developer Lee Powell.
Truro, United Kingdom (PRWEB) May 30, 2014
Literature & Latte Ltd are pleased to announce the release of the 1.7.1.0 update of Scrivener for Windows. This represents the biggest free feature update for the Windows version of Scrivener to date.
"This is really a huge free update and release," said Scrivener's Windows developer Lee Powell. "There are over five hundred fixes and enhancements, and more than fifty new features, changes and improvements."
Highlights include:
-- Custom Meta-Data
Want to track even more details in a piece of work? It is now possible to add as many meta-data fields to a project as the user wishes. These can be displayed as columns in the outliner, or easily accessed in Scrivener's Inspector sidebar. Keep track of dates, characters, and other matters of vital importance.
-- Custom Icons
Spruce up the binder with a broad selection of useful icons (or add your own). Nothing says "fix me now!" like a big yellow caution icon on a chapter a user has been putting off. Or award a gold star when a scene is completed. Sometimes it's the little things.
-- Document Templates
Boilerplate documents can be set up for easily duplication, allowing the creation of character sheets, location sheets and any other kind of template, which can then appear in the "Add" menus.
-- Multiple Project Notes
Open project notes in a separate window, and create new notepads as tabs in this window to better organise any thoughts. Access to all of them is still available in the Inspector sidebar as well. No more lumping everything in one place!
-- PDF Display
Scrivener's PDF engine has been completely overhauled, providing a much improved system for both reading and exporting PDFs. Copy selections of text, or even whole pages at once with a simple right-click. Quickly navigate within larger PDFs that have a built-in table of contents, or by clicking on internal links.
-- Compile Support for Scrivener Links
It might sound arcane, but the ability to link from one piece of a draft to another has important implications: It means the user can now cross-reference in a format that will be more useful for their readers, and it also means a table of contents can be created directly into your RTF files. If MS Office is installed, links are also supported for the PDF, DOC and DOCX formats.
There's a lot more! To review the full list of changes, please view the official change log:
List of changes for Scrivener for Windows 1.7.0
NOTES FOR EDITORS:
Pricing:
This is a free update. However, Scrivener for Windows costs $40 for the regular license and $35 for the education license.
Technical Requirements:
Scrivener requires Windows XP, Vista, 7 or 8 (32 or 64 bit) with DirectX. 1GB RAM; 1ghz; 100mb disk space; 1024 x 768 screen; Internet connection (required for a one-time activation process, prior to registration).
About Us:
Literature & Latte is a shareware company, whose main product is Scrivener.
The program is fully flexible and is designed for use by anyone working on a long and difficult writing project that requires structure and research, or which becomes hard to keep track of in a regular word processor. Rather than tell you how to write, it just makes all the tools you have scattered around your desk available in one application.
Key features include:

Create limitless documents in the same project and edit them separately or merge them dynamically and edit them as a whole.
Virtual index cards store a synopsis for every document you create. Storyboard and rearrange your project by moving them around on the corkboard.
A fully-featured outliner helps you take control of your work's structure.
A powerful keywords system keeps track of characters, themes or ideas.
View your text in full screen for distraction-free composition.
Export your finished draft to your favourite word processor for final formatting, including support for footnotes, annotations and images.
Media Inquiries:
For review copies, additional information, images or interviews with Scrivener's developer Keith Blount, please contact press(at)literatureandlatte(dot)com