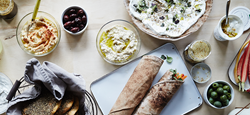 We wanted everyone to be able to eat our specialty yogurt.
Brooklyn, NY (PRWEB) May 30, 2014
When Angela and John Fout's daughter Savana turned six months old and was ready for solid food, they scanned the supermarket shelves for food that was pure and wholesome enough to feed her. When they checked the ingredients listed on the commercial brands, they were appalled. "The typical product comes loaded with sugar and preservatives," said John.
John and Angela preferred their family recipe for savory yogurt and fed Savana from small batches in their own kitchen. It was so good that they enjoyed eating it too, as did their friends. That's when it occurred to them that there must be other families out there looking for the same wholesome foods.
Today, the Fouts produce thick, tangy yogurt made from only three ingredients: locally sourced milk, sea salt and probiotic cultures. They care deeply about making a handcrafted savory yogurt of the finest quality a product rich in nutrients. Using Hudson Valley milk drawn from locally-raised, grass-fed cows, whose milk has Omega-3s and probiotics, free of antibiotics and chemical additives, every cup is fresh and smooth, with a labneh-like, creamy texture.
Already in its first year of operation, Sohha Savory Yogurt (http://www.sohhayogurt.com) sought kosher certification for its popular new yogurt.
When Fout called KOF-K to inquire about certification, the rabbi who received his application was noticeably impressed by the purity of Sohha's yogurt. "After he confirmed that we actually use nothing more than these three ingredients, he told me we were the only yogurt company he was familiar with that didn't use any thickeners or stabilizers," John said.
Rabbi Yisroel Newman of the KOF-K said, "I am excited to help certify a product that will be welcome by the kosher consumer, especially because there is no other product like this in the kosher market today."
John and Angela Fout, Sohha's owners, are delighted to offer this new product to the kosher market. "We wanted everyone to be able to eat our specialty yogurt," Angela said of the decision to get certified. "And frankly, it makes good business sense, too. There are a good number of people in New York who like to eat kosher – not only Jews, but also vegetarians, Muslims and others who care about how their food is produced and exactly what is inside it.
Consumers can purchase Sohha's yogurt by the container at its flagship Chelsea Market booth at 425 W. 15th Street in Manhattan between 9th and 10th Avenues. Or they can visit the many farmers markets and growing list of retail shops where its yogurt is sold. All the information is on its website (http://www.sohhayogurt.com). In keeping with the KOF-K's exacting standards, kosher certification applies only to the products when sealed in their original container bearing the KOF-K registered trademark. (For more information, visit http://www.kof-k.org.)
About Sohha Savory Yogurt
Founded by Angela and John Fout, Sohha Yogurt believes that food should be wholesome and made from the highest quality ingredients. When their daughter Savana turned six-months-old, they couldn't find a yogurt on the market that was pure and wholesome enough to feed her, so they fed her Angela's homemade yogurt, using her family's recipe. Today they produce savory yogurt made from only three ingredients: locally sourced premium milk, unprocessed sea salt, and probiotic cultures.