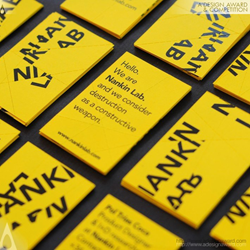 Como, Italy (PRWEB) May 30, 2014
A' Design Award and Competition is proud to inform that the work Nankin Lab Identity Design by Pau Garcia and Pol Trias has been announced as a winner of the famous Platinum A' Design Award in Graphics and Visual Communication Design Category.
Pau Garcia, the head designer of the awarded project Nankin Lab explains, "There is a rare pleasure in seeing a building collapse, in breaking a paper in a half, or blowing up a balloon. These are acts that sometimes last less than a second, and being so ephemeral, makes you run longer in a shorter time. These are situations involving speed and high intensity. Nankin Lab is a design studio that recreates on these moments to generate new projects." Learn more and download high-resolution photos at: http://www.adesignaward.com/design.php?ID=29027.
Project Members for Nankin Lab:
Nankin Lab Identity was designed by Pau Garcia and Pol Trias.
The Platinum A' Design Award
The Platinum A' Design Award is a prestigious award given to top 1% percentile designs that has exhibited an exemplary level of greatness in design. The designs are judged by a panel of three different jury which is composed of Academic, Professional and Focus Group Members. The designs are evaluated with score normalization to remove any biases and are voted on aspects such as functionality, ergonomics, engineering, presentation, innovation, usability, fun details, technology, and any other specific points that could be considered, each of these points are further weighted for different jury groups.
About A' Design Award and Competitions
A'Design Award and Competition, aims to highlight the excellent qualifications of best designs, design concepts and design oriented products. A' Design Award and Competitions are organized and awarded annually and internationally in multiple categories to reach a wide, design-oriented audience. A' Design Award laureates are provided a series of publicity and PR services to promote their award winning work across design media. Learn more: http://www.whatisadesignaward.com.