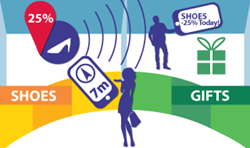 (PRWEB) June 04, 2014
Sirma Solutions, JSC, today announced the new release of its enterprise loyalty management platform Loyax that supports multiple ready-to-go features and back office tools. Loyax Enterprise blends web, mobile, social and in-store interactions to help businesses approach their customers with targeted communication across multiple channels.
"The new release will boost digital communication of retailers with their prospect and current clients, allowing social media integration, location-based communications and in-store navigation. Loyax now helps businesses revive their existing loyalty strategy with streamlined and personalised communication in real time, which effectively increases purchasing decisions," said Tsvetan Alexiev, CEO at Sirma Solutions.
Loyax in-store communication features enable retailers to engage with their consumers in a highly relevant and consistent manner. It precisely targets customers in the range of 50-100m away from smart beacon devices, allowing retailers to push personalised promotional and call-to-action messages, based on stored data and past purchases behavioural analytics. Loyax can detect customers in a range using industry standard Bluetooth Low Energy beacons, which are also supported by iBeacon from Apple and any other Bluetooth 4.0-capable Android and Windows smartphones, to extend the effectiveness of mobile loyalty strategies by adding real-time context to offers and services, and engage customers in the right way at the right time.
The beacon technology implemented also provides in-store navigation with great precision, where GPS signal is usually limited and its accuracy is quite irrelevant indoors. The LBS advertising features offer an exciting opportunity to instantly reach and navigate visitors of big retail venues, including malls and shopping centers, and let them know about the best daily deals, providing special digital coupons and many personalised incentives for the loyal customers.
The Loyax Enterprise platform is designed as a white label, highly customizable solution, which can accommodate any particular business model and be integrated with third party systems already in place.
Sirma Solutions, JSC has implemented successfully hundreds of large-scale IT projects worldwide and provides global services and support. It has accumulated substantial capital of unique technologies, goodwill, technical and business expertise. The company works with proven project management methodologies, strong technical expertise in a wide array of IT domains and extensive knowledge of business processes in a multiple core verticals.
To find out more, please visit http://www.loyax.com.
Contact:
Fabrice Gouttebroze
Gainsborough House,
2 Sheen Road
Richmond TW9 1AE, UK
marketing(at)sirma(dot)com
http://www.sirmasolutions.com
###