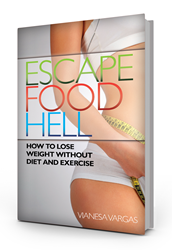 Many parents don't realize their destructive self-care habits have an immediate and lasting effect on their children — I want to turn it around so that parents make a strong investment in their child's health.
Alexandria, VA (PRWEB) July 10, 2014
Every month comes new diets and new failures. The fact is, commercial diets end with a 5% success rate. That leaves many diet-weary adults downright confused by what to eat (and what not to eat); ultimately they abandon simple, sound eating and exercise plans for long-term weight loss and revert back to negative eating patterns.
"America's Food Coach" and Weight Loss Expert, Vianesa Vargas, calls this vicious cycle "Food Hell" in the title of her new eBook. That's why her company, Capital Food Coaching, is encouraging anyone looking to break free from diet fads to join her new "Escape Food Hell Video Challenge."
"It seems we're bombarded by new and conflicting research every day, telling us about fad diets or behavior modifications that will finally make us fitter, healthier or skinner," commented Vargas. "For folks with a lot to lose, this can be discouraging. For others looking to make sustainable lifestyle changes, this can be overwhelming. And, for the rest of us just trying to live our best lives, this can be downright maddening." Vargas added, "No matter how you look at it, it's clear why I've dubbed this phenomenon 'Food Hell' and I've made it my mission to break Americans free from its grasp."
Escaping Food Hell
What is food hell? It can take on many shapes and forms, including being someone who has dieted several times without success, can't stand the sight/smell/taste of diet food, is too busy to cook healthy meals, feels bad after eating or takes supplements instead of food.
In her aptly titled new eBook, Escape Food Hell: How to Lose Weight without Diet and Exercise, "America's Food Coach," Vianesa Vargas, gives readers a sensible, time-tested and easy to follow 30-day healthy eating and lifestyle plan. Inside, readers quickly learn that they're not alone; statistics for the diet industry indicate a measly 5% success rate. Plus, after embarking on a fad diet and failing, many people gain more weight than before they even started.
Instead of restricting choices to a narrow swath of healthy foods, upon completion of this 30-day plan, readers will be given the tools they need to be able to enjoy all nutritious food again; they'll also gain the knowledge they need to live a healthy lifestyle, learn to save money at the grocery store, lose weight and have more energy than they've felt in years.
Escape Food Hell Challenge - Call For Video Submissions
Running from August 1st through August 31st, 2014, the "Escape Food Hell Video Challenge" is the perfect complement to the new Escape Food Hell eBook by Vianesa Vargas. Open to US residents aged 18 or older, to qualify to enter, candidates need only sign up to receive the free Weight Loss Success Guide from the firm's homepage, where they'll also be able to download the Guide instantly.
Individuals can enter the contest by choosing one aspect from the Guide and submit it as a video response to the video "The Good Eater" located on Capital Food Coaching's YouTube channel. Contestants must create an annotation inside their own video that links back to the Good Eater; videos must not exceed three minutes in length.
Winners will be chosen by Vianesa Vargas and awarded $100 each for the duration of the contest.
About Vianesa Vargas of Capital Food Coaching
Vianesa Vargas is known as "America's Food Coach." The founder of Capital Food Coaching, Vargas is also the author of the Escape Food Hell eBook available on Amazon.com. Vianesa has years of experience in helping individuals and families make better food choices for life.