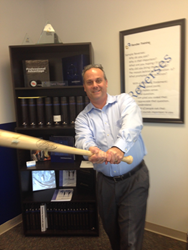 "Sometimes Salespeople just need a slight edge to win more deals."
Princeton, NJ (PRWEB) May 30, 2014
AGT & Associates Inc., an authorized Sandler Sales Training Center, has released several key steps to getting sales results where you want them to be for the second half of the year.
"I see it every June. Summer hits and for some sales people, they start to slow down. On the flip side, there are those that see the summer as a time to refocus and plan out a great second half of the year," says David Trapani, CEO, AGT & Associates Inc.
Trapani suggests these 3 steps for salespeople to stay on top of their game:
1) Identify the clients you want to be doing business with. This can be a list of targeted companies or you can start with a few buckets. For example, identify what a squirrel (small opportunity) looks like, a deer (medium opportunity) and a bear (large opportunity).
2) Review where you've been spending your time for the first half of the year based on the information from step #1. What percentage of your time did you spend in your areas of focus and how did your results compare?
3) Finally, reset your goals. Ensure they are realistic and then match your goals to your calendar. Craft a plan that aligns your goals with your targeted markets. Simply put, how much time should you spend prospecting for squirrels, deer and bears? Block out the appropriate time in the future weeks and months.
These 3 steps are a simple way to get re-focused. Sometimes minor changes in our approach to sales can make all the difference.
"Professional athletes typically have a coach to help with minor adjustments," added Trapani. "Sometimes salespeople just need that same slight edge to win more deals."
For additional information or learn more about Sandler Training, Princeton you can contact David Trapani @ 732-997-7580.
About AGT and Associates Inc.
AGT & Associates, Inc. an authorized Sandler Sales Training in Princeton, NJ. AGT & Associates Inc. bring over 23 years of sales, marketing and management experience. Their focus is to help sales people and sales managers gain an edge to move their business to the next level. As a Certified Sandler Trainer, they teach their clients in the Sandler Success beliefs of Behavior, Attitude and Technique.
About Sandler Training
David H. Sandler developed the Sandler Selling System® methodology, an innovative, non-traditional selling system, in the late 1960s, and created the concept of 'reinforcement training' to support it. From that foundation, he went on to create a series of proven sales training programs for small- and mid-sized companies and Fortune 500 corporations, and founded the Sandler Sales Institute®.