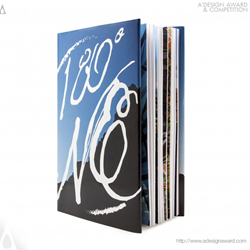 Como, Italy (PRWEB) May 30, 2014
A' International Design Award and Competition is proud to announce that the book design 180º North East by Daniel Kutcher has been honored with the notable Platinum A' Design Award at Writing, Literature and Content Design Competition. 180º North East was chosen as a winner among numerous participants after extensive peer-review and anonymous judging processes.
About 180º North East Novel Design
Daniel Kutcher, the creative mind behind the awarded design 180º North East, explains, ""180º North East" is a 90,000-word adventure narrative. It tells the true story of the journey Daniel Kutcher made through Australia, Asia, Canada and Scandinavia in the fall of 2009 when he was 24. Integrated within the main body of text that tells the story of what he lived through and learnt during the trip, photos, maps, expressive text and video help immerse the reader in the adventure and give a better sense of the author's own personal experience." Learn more about this design: http://www.adesignaward.com/design.php?ID=29456.
The Platinum A' Design Award
The Platinum A' Design Award is a prestigious award given to top 1% percentile designs that got the highest votes from the jury. Entries to A' Design Award are judged by a 50-person jury panel composed of academics, design professionals and press members. Laureates of the A' Design Accolades are given an extensive and inclusive winners' kit which not only includes pr and publicity tools but also yearbook inclusion, design mediation services, exhibition participation and gala-night invitation.
About A' Design Award and Competition
International and annually organized, A' Design Award and Competition aims to highlight best designs, design concepts and design oriented products worldwide in order to promote good design practices and principles. The ultimate aim of the A' Design Accolades is to push designers and brands to come up with superior products for a better future. Learn more at: http://www.whatisadesignaward.com.