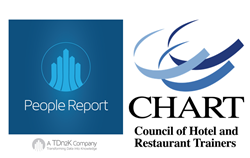 "It is our goal to not only track trends in hospitality training, but to give trainers actionable insights they can use." said Calvin Banks, CHART President
Dallas, Texas (PRWEB) May 30, 2014
TDn2K (Transforming Data Into Knowledge), parent company of People Report and Black Box Intelligence has partnered with CHART (Council of Hotel and Restaurant Trainers) to produce the "Trends in Hospitality Training & Development Study" in 2014.
"In the current business environment, characterized by a fierce battle for market share, flawless execution by frontline employees is critical for the success of any organization competing in the restaurant and hospitality industries. The only way to get to the required level of execution is through effective training," says Victor Fernandez, Executive Director of Insights and Knowledge at TDn2K "For this reason we believe the insights into training and employee development to be delivered by this study are more important than ever."
"It is our goal to not only track trends in hospitality training, but to give trainers actionable insights they can use to gain additional support to develop people and improve performance in their organizations," said Calvin Banks, CHART president and director of training for The Broadmoor Hotel.
Findings from this survey will allow business leaders in the hospitality and restaurant industries to benchmark training and development practices against an unparalleled data set in the areas of learning investments, learning hours per employee type, delivery methods, instructional design, content areas, e-learning practices and internal versus external resources.
The survey is to be completed by restaurant and hospitality training, development and human resources professionals. It is not exclusive to CHART and TDn2K members. Participation in the survey grants first rights to its results and insights.
About TDn2K
TDn2K (Transforming Data into Knowledge) is the parent company of People Report, Black Box Intelligence and White Box Social Intelligence. People Report provides service-sector human capital and workforce analytics for its members on a monthly basis. Black Box Intelligence provides weekly financial and market level data for the restaurant industry. White Box Social Intelligence, currently in beta, will deliver unparalleled consumer insights and reveal online brand health. Together they report on over 30,000 restaurant units, one million employees and 40 billion dollars in sales. They are also the producers of two leading restaurant industry conferences: Summer Brand Camp and the Global Best Practices Conference, each held annually in Dallas, Texas.
About CHART
CHART, a non-profit professional association founded in 1970, is the leading resource for the development and advancement of hospitality training professional and their organizations. With more than 450 members from more than 300 multi-unit restaurant and hotel companies, CHART represents a workforce of almost three million. CHART includes all facets of hospitality training, learning and performance professionals; from entry level to senior executive. CHART's mission is to develop hospitality training professionals to advance industry training practices and improve operational results by providing access to education, tools and resources.