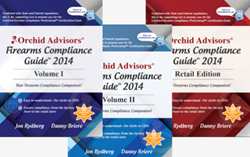 ATF compliance violation risk can be reduced with basic education," says Jillair Kubish, President of Orchid Advisors
Hartford, CT (PRWEB) June 02, 2014
Orchid Advisors, the only management consultancy dedicated to the firearms industry, announces the launch of the first online Firearms Compliance Training Program priced affordably for every Federal Firearm Licensee (FFL). The Orchid Advisors Firearms Compliance University (FCU) is designed to enhance compliance literacy through online role-based training, videos, and an employee knowledge certification – all in one site.
"ATF compliance violation risk can be reduced with basic education," says Jillair Kubish, President of Orchid Advisors. "Employees of every FFL contribute to the successful achievement of compliance with their daily actions. For the first time ever, employees have the means to educate themselves on selected regulatory and operational processes such as the ATF F 4473, manufacturing marking variances and the Book of Acquisition & Disposition. While it doesn't replace the regulations nor serve as a legal interpretation thereof, it moves the ball forward toward a higher level of compliance literacy in the U.S."
The Firearms Compliance University is the industry's first "Learning Management System" (or LMS) and is targeted at every retailer, importer, manufacturing and other FFL employees in the United States. Included in the University are the following items:
--A role-based, SCORM-compliant LMS that can be used either through the Orchid website or as a plugin to existing tools such as LRN, Corpedia, WeComply, Click4Compliane, SAP Success factors and others;
--Online digital content consisting of over 80 videos, photos and practice exams;
--Over 1,000 pages of content split over three volumes of text (one specific to retailers and the other two for the broader industry); and
--An optional two-level knowledge certification program -- the Certified Firearms Compliance Professional™ (CFCP™) certification program which offers retail and manufacturing staff, store managers, and larger compliance departments the ability to demonstrate their professional growth.
"We are excited to bring a modern LMS to the firearms industry," says Jon Rydberg, CEO of Orchid Advisors. "ATF and industry education will continue to be a major focus of our firm and the reason we are hosting the industry's first Firearms Compliance Conference to be held this October in Miami.
From a content perspective, the Firearms Compliance University offers subscribers access to selected operational and regulatory content pertaining to the Gun Control Act (GCA), National Firearms Act (NFA), America Export Control Act (AECA) and State Regulations. Manufacturers, distributors, retailers/dealers, importers, pawnbrokers, and others will benefit from the program. Topics include:
--Retail, Manufacturing and Import Compliance
--Serialization and Variances
--Tracing, Forms and the A&D Book
--Serialized Inventories and The ATF Inspection
--Receive, Ship, Scrap, Sales, 4473, Multiple Sales controls, amongst others
--Physical Security and Theft / Loss Management
The FCU is priced to facilitate dealers in training their entire store with one tool. "For just $199 per store for Type 01, 02, 03, and 09 FFLs, all employees get online access and role-based training programs," Rydberg says. "For larger companies like manufacturers, more customized pricing packages help deploy this across larger employee populations." Certification costs $499.95 per individual for the retail CFCP-I exam, while $899.99 per individual for the more comprehensive CFCP-II exam (which covers also import/export and more intensive operational topics).
The FCU complements Orchid's ATF inspection and compliance consulting services. FCU subscriptions may be purchased by contacting Orchid. Sample chapters and videos, as well as a table of contents are available on the Company website.
About Orchid Advisors – Transforming the Compliance Ecosystem™
Orchid Advisors is a strategic management consultancy focused on transforming the worlds of operations, technology and compliance in selected industries. Our initial entry market is the Firearms Industry where Orchid serves more major manufacturers than any other consulting firm. Orchid clients hire the firm to help reinvent business processes, implement technology solutions to support that change, and strategically plan and monitor resulting sustainable audit and compliance cultures in their organization. Orchid Advisors bring the depth and breadth of Big Four consulting with the innovation, thought leadership, and economies of a boutique analyst firm. For more information, see http://www.orchidadvisors.com. Orchid Advisors is endorsed by the NSSF.