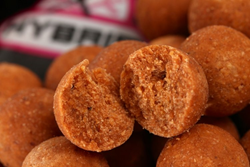 Mainline Baits the Cell has always been a top seller but the new Hybrid range quickly is catching up. Sales have been really promising over the last few months.
Bolton, Lancashire (PRWEB) May 30, 2014
Carp Baits Online launch new product ranges by Sticky Baits and Mainline Baits. New baits include The Krill White Ones by Sticky and the much anticipated Hybrid range by Mainline.
Carp Baits Online Limited are based at Bolton Enterprise Centre, Bolton, Lancashire.
The Sticky Baits Krill stockists were established in 2009 by partners Andy Roberts and Dan Robinson.
As the name suggests the online bait and fishing tackle specialists mainly sell bait for carp.
Dan was asked "What is it that makes your shop different from other tackle shops?"
The Nutrabaits stockist answered, "Our aim is to be the very best at what we do. We provide lots of choice and and fast delivery. As soon as any new product comes on the market we try to stock it first. At every stage of the order we communicate with our customers and once delivery is complete we offer reward points."
The Carp Baits team is made up of three members which includes Dan, Mike and Cameron.
Carp Baits Online sell throughout the UK and internationally via the website http://www.carpbaitsonline.co.uk with over 3500 products available to buy online.
Shops are also featured on Amazon and eBay.
"In the beginning, it took us by surprise at how many orders we receive from Europe and further afield. I suppose if it is your hobby and you can't buy what you need in your country you may buy it from us," explained Dan.
The new products launched by Sticky Baits include: Pure Hemp Oil and pop up boilies The Krill White Ones.
According to the Sticky Baits website:
"Pure Hemp Oil is obtained from one of the best angling baits of all time, and it is recognised as the principal attractor within hemp seed itself. Our Pure Hemp Oil has a wonderfully nutty taste and aroma which is simply divine, along with a nutritional profile up there with the very best food oils available due to being rich in the omega oils, vitamins and minerals that a carp requires. Whether you add this to your spod mix, use it to dampen down sticks or simply glug boilies with it, Pure Hemp Oil is guaranteed to boost the natural attraction of any bait and get those carp feeding."
"All the ranges by Sticky sell well but this product has been very popular and started to sell the minute we added it to our site, eBay and Amazon," said Dan.
Also new by Sticky are The Krill White Ones.
Sticky say, "These attention-grabbing pop-ups feature highly boosted levels of pure, natural attraction, and thanks to a ground-breaking new production method they are also the most buoyant pop-ups we have ever released. They are the ultimate hookbait to fish over our Krill boilies. As the name suggests, The Krill "White Ones" are striking white pop-ups that offer you a great visual edge when bites are hard to come by fishing their traditional food bait counterpart. As well as the fluoro colour, these little beauties also have boosted attractor levels to really help them stand out and steal you those extra pick-ups. The 12mm's are great for both zigs and snowman presentations, whereas the 16mm's are ideal for the ultra-popular chod rigs and will keep a big hook up indefinitely; we believe these two sizes should cater for all occasions"
"After selling lots of these I tried them myself and have to say I was very impressed. I banked three fish when I first used them" said Dan.
The Hybrid range by Mainline Baits is also now available.
According to the Mainline website:
"Hybrid, the latest in our long line of dedicated boilies, truly is a bait like no other.
"Take the smell for example, like many of our food source baits you just can't put your finger on what its is – you just know it smells… well carpy. Being neither an out-and-out fishmeal, high-protein nor bird food type bait; the style of this bait is typified by the name Hybrid. As it is the true combination of the very best ingredients and elements of bait design. It is quite simply the ultimate in carp food and structure to provoke a feeding response at any time of year regardless of water temperature."
The Hybrid range consists of freezer baits, pop ups, dumbell hookers, stick mix, stick liquid, glug and matching pellets.
"Mainline Baits the Cell has always been a top seller but the new Hybrid range quickly is catching up. Sales have been really promising over the last few months," said Dan.