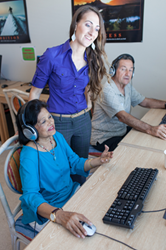 This program has the potential to be a blueprint for all senior living communities to replicate and change the way we serve older adults.
Gainesville, Florida (PRWEB) May 30, 2014
The Village retirement community announces a partnership with the University of Florida to house a team from the College of Public Health and Health Professions on The Village's campus. The new program focuses on research and hands-on approaches to help improve the brain health of older adults. A kickoff event on June 2 will feature demonstrations of the UF Health Vitality Mind program and tours of the new 'vital learning laboratory' on campus.
"To add cognitive health services and be able to show older adults that we can help improve their brain health is pretty special," says Jim Antonucci, executive director of The Village. "People want real outcomes and immediate benefits, and that's what this new program offers seniors."
The Village converted a two-bedroom apartment at the community to house the UF researchers and the equipment used. The senior living community also funded an $80,000 research grant to the University for the program. Approaches include mindfulness-meditation, computer training, exercise, behavioral activation, video games and neurostimulation. More than a dozen residents are already involved in the program.
The UF Health Vitality Mind research team, headed by Dr. London Butterfield, Dr. Dawn Bowers and Dr. Michael Marsiske, provides on-site assessment and intervention programs at The Village.
"For Village residents and area seniors who come to us, we'll be able to offer one or more programs designed to improve mood, mental functioning and the ability to independently perform everyday tasks," Marsiske says. "It's also a great opportunity for our students who are interested in aging. They're able to interact with the seniors in a natural, real world setting."
The Gainesville senior living community is expanding its current health care service program in place to address residents' physical health and social skills. Launched last year, The Village's Vitality Program measures each resident's health and wellness status every six months, and provides information about any potential health risks and proactive steps to maximize health. The Vitality Program starts by assessing each resident and giving them a "vitality score." Using this score, The Village and UF can decide which residents to include in the cognitive research and new programs.
"We want to keep building the health and wellness services at The Village, and adding the cognitive program is a great next step to pinpoint different life stages and provide the best stimulant," Antonucci says. "This program has the potential to be a blueprint for all senior living communities to replicate and change the way we serve older adults."
About The Village
The Village is North Central Florida's premier full-service rental retirement community. For more than 25 years, it has provided maintenance-free independent living, as well as access to on-site health care, including assisted living and memory support, if ever needed. The Village is located on 104 acres at 8000 N.W. 27th Blvd., Gainesville, Fla. For more information, visit http://www.thevillageonline.com or call (352) 548-3540.
The Village is one of three Florida retirement communities owned and operated by Gainesville-based SantaFe Senior Living, part of a not-for-profit family of organizations serving Floridians throughout all phases of life. For more information, visit http://www.santafehealthcarefl.org.