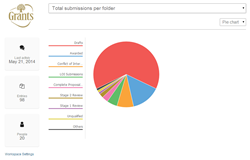 With a single click of the mouse, you can view each application or entry in its entirety.
Conshohocken, PA (PRWEB) June 03, 2014
With over 1,000 customers, WizeHive has emerged as the leader in helping organizations move their paper application processes online. Working with customers such as the President's Committee on the Arts and Humanities, United Way and the World Wildlife Fund, WizeHive has automated application processes for grants, scholarships, fellowships, internships, awards, competitions, certifications and more.
WizeHive's Select platform includes an easy to use form builder, powerful workflow rules, a flexible report writer, easy to use collaborative review tools and more. The latest release of WizeHive Select has added a powerful and graphical dashboard that includes a variety of graphical views to help program administrators answer many of their day to day questions quickly and easily - like how many applications have been submitted, how many applications are in draft, which applications have been reviewed and how many applications are flowing through the system over a given period of time.
The graphical views provide for various options with charts being available as Bar Charts, Pie Charts or Line Charts. Each graph is interactive providing the underlying data on the right side of the screen as the user clicks on different slices of the pie chart or different bars in the bar chart.
When developing these new views, WizeHive focused on keeping the platform easy to use for both new and existing customers. "With a single click of the mouse, you can view each application or entry in its entirety. A separate window appears to make it easy for you to navigate and scroll through the application or entry," said WizeHive CEO Mike Levinson to describe the new release. "In addition, you can click on the 'See all records' option and view all the entries in that particular folder."
WizeHive will continue to add new views each month based on customer requests, making it even easier to manage grants, scholarships and other application processes using the WizeHive Select platform. An upcoming release will make these views easily sharable via a private URL with the simple point and click of a mouse.
About WizeHive
WizeHive makes it easy for business people to configure and deploy cloud-based solutions that help them organize, automate and streamline their business activities.
WizeHive's flagship product, Select, is used to streamline and automate paper intensive processes such as online grant applications, online scholarships applications, fellowships and other competitions. The result is the elimination of paper and time spent copying, collating, mailing, and organizing all of that information. In addition, its collaboration and decision making tools provide a simplified way to help them make better, faster decisions.
WizeHive Select is being used by over 600 non-profits and global organizations including Disney, United Way, BlackBoard and Echoing Green to collect millions of online applications each year spread over thousands of application processes.
WizeHive Buzz is similar to Select but has been optimized with a unique set of public voting features that have made it the web's leading online contest software platform for brands, publishers and agencies.
WizeHive's newest product, WizeHive Current, was created to help teams work together online to automate and streamline other data intensive business processes such as contact & lead management, hiring, service ticketing, bug tracking, event registrations, and much more.
WizeHive Current is unique in that it empowers anyone to quickly and easily build or configure their own collaborative data oriented business application - without needing a programmer or IT person to assist. At the same time, Current can be extended by developers using our restful API to connect to hundreds of data sources, or by building simple JavaScript plug-ins using our friendly plug-in architecture.