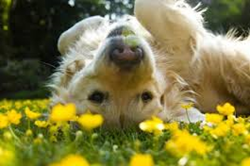 Allergies are one of the most common claims we receive.
Jeffersonville, IN (PRWEB) May 30, 2014
April showers brought an abundance of May flowers… and allergies! Stuffy and runny noses, sinus problems, headaches and itchy skin abound. Surprisingly, allergies do not just affect humans—many of our pets also suffer effects from the same allergens.
"Allergies are one of the most common claims we receive," said Fran Mitchell, claims manager at PetFirst. "It can be a chronic problem that warrants several trips to the vet office or even a specialist—which can really add up."
Omni, a three-year-old Labrador retriever from Collierville, Tenn., had testing to determine what seasonal and environmental allergies were causing him to suffer. Not only was his owner left with a laundry list of allergens, he had a bill for more than $1,200 for tests and Omni's first prescription of allergy serum. Each refill for his monthly shots will cost an estimated $165.
According to the Asthma and Allergy Foundation of America (AAFA), the prolonged winter is to blame for record pollen and mold counts this spring. So, allergy sufferers, like Omni, can expect an increase in veterinary visits to find relief.
Here are some common signs a trip to the vet may be in order to check your pet for allergies:

Red, irritated, or watery eyes
Swollen paws
Itchy skin
Chronic coughing or sneezing
Inflamed ears
Nasal discharge
Scratching back or belly
Recurrent ear infections or scratching ears
Licking or chewing at feet
Hair loss
Rubbing face with paw or against the carpet
There are several options to determine what is causing your pet's symptoms. Veterinarians may conduct a physical exam, blood tests or a special elimination diet to determine the source and develop a treatment plan to provide relief.
Part of most treatment plans is reducing allergen exposure:

Change air filters in the house regularly (dust, dander, and perfumes are known causes of allergies among cats and dogs).
Keep pets indoors while mowing the grass (tree, grass and weed pollens are common sources of sniffles and sneezing).
Wipe your pet's paws when they come indoors (this decreases the amount of pollens that they could be tracking inside).
Do not vacuum when your pet is in the room (this can stir up allergies).
Walk dogs early in the morning (dew and wet grass lessen the release of pollen).
About PetFirst
PetFirst is the fastest growing pet insurer in North America offering easy-to-understand lifelong coverage for dogs and cats. PetFirst's comprehensive coverage is unique in the industry providing simplified policies with coverage for hereditary, chronic and breed-specific conditions with no per diagnosis limits. PetFirst offers pet insurance in all 50 states and the District of Columbia through animal welfare agencies, retailers, employers as well as other partners. PetFirst polices are underwritten by American Alternative Insurance Corporation (Munich Re) which is rated by A.M. Best as A+. Additional services are underwritten by Lloyd's. For more information about PetFirst pet insurance, visit http://www.petfirst.com or call 877-894-7387.
-30-
MEDIA CONTACT:
Randy Stewart
[w] 812.206.6999
rstewart(at)petfirst(dot)com