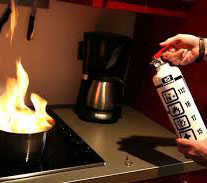 Smart risk management is the best way to prevent for kitchen fires...
Neptune, NJ (PRWEB) May 31, 2014
All Hands Fire Equipment, a leading provider of NY and NJ fire safety equipment and training, offers tips to minimize the chances of kitchen fires.
"Smart risk management is the best way to prevent for kitchen fires," says AllHandsFire.com CEO Donald Colarusso, a safety trainer and firefighter with over 2 decades of experience. "The following tips could help you and your family dramatically reduce the chances of a serious kitchen fire. Discussing fire safety, equipping yourself with fire safety equipment, and practicing best practices in the kitchen will help keep your home and family safer."
A Dozen Useful Kitchen Fire Safety Tips:
1. Fast Thinking. One reason many fires get out of control and injuries occur is that people think they can control them. One should not hesitate to call 9-1-1 and get out of the kitchen to safety if the fire cannot be swiftly extinguished.
2. Checking Equipment. Making it a habit to check the home's fire, smoke, and carbon monoxide alarms regularly. If they are battery operated, it's important to make it a habit to test them seasonally and change batteries annually. Hard wired alarms should also be periodically tested.
3. Paying Attention. Unattended cooking is responsible for a large number of kitchen fires. Leaving the stove, oven, or small appliances unattended while in use is trouble waiting to happen.
4. Cleaner = Safer. Practice smart kitchen safety guidelines by keeping the kitchen clean and organized, carefully disposing of flammable material, keeping towels and paper products away from heat sources, carefully turning pot handles so that they won't become a spill or burn danger, and teaching children safety guidelines.
5. Being Aware of Oil Fires. Oil fires are particularly dangerous and can get out of control quickly. Being sure when using current deep fryers that they are in good repair (older ones don't have the same fire standards and temperature controls). Avoiding deep frying in oil on the stove in an open pot, is good practice, if possible.
6. Buying the Right Fire Safety Equipment. Outfitting the kitchen with a kitchen fire extinguisher and familiarizing oneself with how to use it before a fire. Water should not be used to extinguish oil or grease fires.
7. Safe Kitchen Equipment. Checking and/or replacing appliances with damaged cords is important.
8. Is The Home's Electrical Safe? Investing in GFCI outlets and investing in updating outdated electrical systems can avoid major problems.
9. Degreasing the Oven. Cleaning the stove and oven regularly and degreasing range hoods periodically to reduce chances of fire.
10. The Fridge: Kitchen fires can also happen as a result of refrigerators and freezers. Following manufacturer guidelines to clean under and behind these units regularly to remove debris from coils is important.
11. Teaching Kids Kitchen Safety. Not allowing kids to cook alone until they have demonstrated adequate awareness (not usually until their teens).
12. Risk Management Matters. Coming up with a fire safety and escape plan with your family and practicing fire drills to ensure everyone in the home is prepared in case of an emergency.
About All Hands Fire Equipment
All Hands Fire Equipment is a family owned and operated fire safety and equipment company who has served customers since 2001. The company provides a wide array of fire safety items, survival gear, FDNY items, and more. Visit http://www.allhandsfire.com/Best-Selling to find out about bestselling fire and safety items. All Hands Fire offers safe and secure online shopping at http://www.allhandsfire.com.
Mailing Address:
7 Third Avenue
Neptune NJ 07753