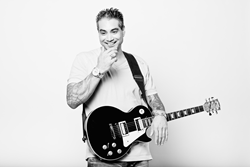 Fort Lauderdale, FL (PRWEB) June 01, 2014
Musician Dyce Kimura began teaching Fort Lauderdale singing lessons and guitar lessons to people of all ages, but he recognizes that starting a skill at a young age can help a student learn that skill faster. Learning music at a young age is also linked to a higher level of self-esteem and better school grades in children and teenagers.
Dyce Kimura developed his skills in music and teaching, and now makes use of technology in the form of Skype music lessons to reach his students. This method is appealing to school-aged students and their parents because they can optimize the time the child uses for lessons.
Because he values music education for the younger generation, Kimura is offering a special discount for school students in the month of June. He wants children and teenagers to be able to spend their free time learning a new skill. Students who sign up for a summer package of ten guitar lessons get $100 off of their lessons. Kimura wants kids and teenagers to be able to keep their brains active during the summer by learning something new.
Dyce Kimura's Fort Lauderdale guitar lessons cover a wide variety of key areas. He teaches all skill levels from beginner to semi-pro guitar players for both acoustic and electric guitars. He teaches ear training, improvising, practical application in bands and on stage, gear training, and music theory, all of which directly lead to the ability to extemporize and understand the building blocks of music.
Kimura's lessons for voice cover the following:

Range extension
Mixing vocal registers
Trills, licks, and runs
Using more power with less effort
Developing vibrato
Eliminating vocal strain
Dyce Kimura's methods are updated for the 21st century. He does not want his students to waste time commuting to lessons when the internet provides many other opportunities. He teaches secular and Christian Skype guitar lessons as well as secular and Christian Skype singing lessons. Kimura's use of telecommuting technology allows greater access to more students from the Fort Lauderdale/Hollywood area and lets students feel more comfortable from their own homes on their own schedules.
"Generally, the younger a student is, the easier it will be for them to learn music," said Kimura. It is his hope that the June promotion will make it easier for kids to start Fort Lauderdale guitar lessons and make significant progress by the time they return to school in the fall.
Dyce Kimura is a full-time guitar and vocal teacher, giving private lessons and Skype lessons in both areas.