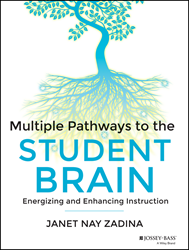 Indianapolis, IN (PRWEB) June 02, 2014
Multiple Pathways to the Student Brain: Energizing and Enhancing Instruction, from a neuroscience researcher and former classroom teacher, helps educators steer clear of "neuro-myths" and explains in teacher-friendly language how the brain learns. Award-winning researcher and presenter Janet Zadina explains the multiple pathways to the brain--not just visual, auditory, and kinesthetic (which all fall under sensory-motor), but also the language, reward/survival, social, emotional, memory/attention, and frontal lobe pathways.
While there has been a proliferation of books and workshops that aim to translate brain science into classroom practice, teachers are rarely shown how to implement the information they learn. Educators are forever searching for new and improved ways to convey information and inspire curiosity, and research suggests that exploiting different pathways may have a major effect on learning. Multiple Pathways to the Student Brain: Energizing and Enhancing Instruction allows readers to see brain science through the eyes of a teacher—and teaching through the eyes of a brain scientist.
Multiple Pathways to the Student Brain: Energizing and Enhancing Instruction is the perfect resource for new and veteran teachers everywhere to help them improve the classroom environment. By better understanding how students learn and absorb different types of information, teachers can find better ways to connect with their students so that their students have a greater chance at succeeding.
###
About Wiley:
Founded in 1807, John Wiley & Sons, Inc. has been a valued source of information and understanding for more than 200 years, helping people around the world meet their needs and fulfill their aspirations. Wiley and its acquired companies have published the works of more than 450 Nobel laureates in all categories: Literature, Economics, Physiology or Medicine, Physics, Chemistry, and Peace.
Our core businesses publish scientific, technical, medical, and scholarly journals, encyclopedias, books, and online products and services; professional/trade books, subscription products, training materials, and online applications and Web sites; and educational materials for undergraduate and graduate students and lifelong learners. Wiley's global headquarters are located in Hoboken, New Jersey, with operations in the U.S., Europe, Asia, Canada, and Australia. The Company's Web site can be accessed at http://www.wiley.com. The Company is listed on the New York Stock Exchange under the symbols JWa and JWb.