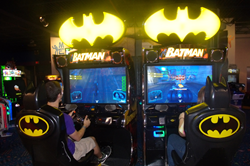 Carlisle, PA (PRWEB) July 03, 2014
Carlisle Sports Emporium is pleased to introduce over a dozen new arcade games! Already an area attraction for all ages, the Sports Emporium will kick off the summer season with new games like:

Part of Sports Emporium's new line-up includes additions to its carnival alley, such as Down the Clown and Milk Jug Toss. Plus, many new games are anticipated to arrive onto the scene this Fall.
Carlisle Sports Emporium entertainment complex features indoor and outdoor go-kart tracks, two 18-hole miniature golf courses, a 7,500 sq. ft. 2-tier LASERTRON laser tag arena, a roller skating rink, Victory Lane Café, and the largest arcade in the area, which includes a computerized indoor rock climbing wall.
In addition, Sports Emporium's Lasertron Lasertag has recently grown in the number of packs that can be present in a session. Now laser tag enthusiasts can battle up to 37 people in a session of Lasertron Lasertag, which means more room for friends and competitors!
Sports Emporium is also excited to announce that its beautiful Miniature Golf courses have been recently re-landscaped on both the castle and western themed 18-hole courses. Visitors can see the cascading waterfalls and unique landscaping, including over six truck loads of new plants.
Whether planning a day with kids or a team-building outing for a company or organization, Carlisle Sports Emporium, "the ultimate place to play," is the destination this summer for fun and family.