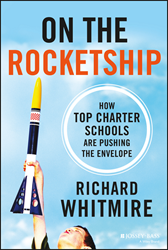 Indianapolis, IN (PRWEB) June 02, 2014
On the Rocketship: How Top Charter Schools are Pushing the Envelope examines the rise and expansion of leading charter school network Rocketship, revealing the "secret sauce" that makes a successful program. A strong narrative with a timely message, the book explores how Rocketship started and the difficulties encountered as it expands. Designing schools for children who have been failed by traditional schools is extremely challenging work. Setbacks are inevitable. As the story progresses, the narrative shifts to the national picture, exploring how high-performing charter schools are changing the education landscape in cities such as Denver, Memphis, and Houston. The book emerges just as charter schools are running into stiff political opposition in New York City and elsewhere. Even in San Jose, California, Rocketship's home base, the pushback against charter schools is gaining speed.
Written by a veteran journalist who followed Rocketship through a school year, the book explores some of the factors that make Rocketship and other charters successful, including the blended learning that was pioneered at charter schools. Many schools around the country look to Rocketship as a model for implementing blended learning. Blended learning, itself a controversial topic, ultimately offers students a more active role in guiding their own education. At these schools, blended learning is leading to richer learning. The interplay between charter schools and blended learning is setting a change in motion, and the American education system is ready to evolve. On the Rocketship details this phenomenon, providing insights for educators across the nation.