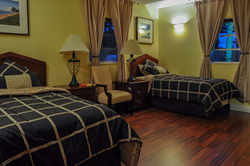 Our message to people thinking about conducting similar behavior is to think about yourself, your health, and your safety first.
Miami, FL (PRWEB) May 31, 2014
As reported by Fox News in the article Texas Pilot Accused of Smuggling Bags of Cocaine Inside His Stomach (5/29), pilot Stanley Hill boarded an airplane after authorities suspect that he swallowed somewhere between 4 and 200 grams of cocaine in an attempt to deliver it from one area to another. Hill called emergency responders after he believed that one of the bags opened up in his stomach. Although Hill was not actually flying the plane, he was still in a pilot's uniform when he was arrested. After receiving treatment, he is now facing charges related to his accused behavior. At the time that this article was published, all charges are currently allegations.
"Smuggling cocaine by swallowing it is a common way that many drug dealers transport illegal substances," said the head of Harbor Village, a luxury drug rehab facility in sunny Southern Florida. "However, many news stories in the past have reported on people smuggling drugs through ingestion. Our message to people thinking about conducting similar behavior is to think about yourself, your health, and your safety first. Do not even get involved with drugs to begin with. When a bag of any drug opens up in your body, it can cause death, serious injury, and/or addiction. You may just be transporting something but then next thing you know, you've got a taste of it and your body becomes addicted. Any time that happens, the best course of action is to get help immediately. In the case of this story, no conviction has been made but we found it to be a good reminder of these types of situations."
Harbor Village, one of Florida's best drug addiction facilities, is a safe, peaceful place where anybody suffering from a drug addiction can find help and solace. Every client gets to experience private, upscale bedrooms, free entertainment including high-speed internet and Netflix, hot, delicious meals, and more. Relaxation and recovery is the main priority at Harbor Village. The medical staff is well-trained to assist clients in medical drug detox processes and mental healing. "Our number one mission is to help people see the light in their lives and to help them get better so that they can live their life to the fullest," noted the head of Harbor Village.
The mission statement of Harbor Village is to assist people from all walks of life with their addictions. For the last year, the peaceful and quiet environment of Harbor Village has helped make positive impacts in their lives. For the years to come, they hope to continue to help others see the light in their lives. Those who are looking for a safe, supervised, and peaceful detox process can get everything they are looking for and more at Harbor Village. Here, the goal is to help every client be happy, healthy, and ready to move on to the next step of his or her life.
For more information, visit: http://harborvillageflorida.com/ or call the 24/7 hotline 1-855-338-6900.