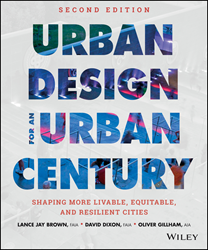 Indianapolis, IN (PRWEB) June 03, 2014
Urban Design for an Urban Century: Shaping More Livable, Equitable, and Resilient Cities, 2nd Edition offers readers a comprehensive introduction to urban design, ranging from an historical overview and basic principles of the discipline to practical design concepts and strategies. It discusses the demographic, environmental, economic, and social issues that influence the decision making and implementation processes of urban design.
The new Second Edition is fully revised to provide exactly the information students and instructors need, including thorough coverage of sustainability issues and new, better organized case studies offering a critical analysis of a variety of project types. Student and instructor ancillary materials, including PowerPoint slides, course outlines, sample questions and projects, and bonus case studies, help to enrich understanding of this topic.