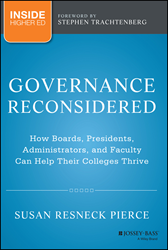 Indianapolis, IN (PRWEB) June 03, 2014
Governance Reconsidered: How Boards, Presidents, Administrators, and Faculty Can Help Their Colleges Thrive explores the topic of governance both as it is being practiced in the current educational and economic environment and how it might more effectively function. It identifies key challenges facing trustees, presidents, senior administrators and faculty and specify their responsibilities. The book is grounded in the notion that both the external and internal pressures facing colleges and universities today demand that boards do more than just come for lunch and bask in the prestige that being a trustee brings to them, but rather that they must add genuine value to the institution and must be the president's strategic partner. In this book, Pierce addresses the following questions:

Who should be responsible for the nature and pace of change on campuses?
How can colleges and universities simultaneously be able to make pressing decisions in a timely fashion while giving appropriate deference to the faculty in academic matters?
Given the critical role of the president, how should boards select and evaluate presidents and what role should other members of the campus community, particularly the faculty, play in these activities?