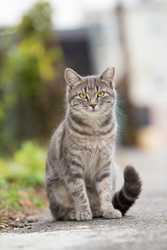 Bethesda, MD (PRWEB) May 30, 2014
Alley Cat Allies is gearing up for the 14th annual National Feral Cat Day® on October 16 by urging advocates around the country to start planning now for events and programs that raise awareness about feral cat care, Trap-Neuter-Return (TNR) and highlight and commend local veterinarians and veterinary technicians, caregivers and trappers for their dedication.
"Since Alley Cat Allies started National Feral Cat Day® 14 years ago, our country's resources and support for feral cat programs has expanded exponentially," said Becky Robinson, president and founder of Alley Cat Allies. "Trap-Neuter-Return can be found in every community—many programs run or supported by local shelters. TNR is a true victory for our community's cats."
Currently, over 430 local governments endorse TNR and more than 660 local nonprofit organizations educate their communities about feral cat colonies and carry out TNR programs.
Robinson noted that National Feral Cat Day® is not just a single day, but an opportunity for supporters to rally for programs and policies that will make a lasting difference in the lives of cats and best address their communities' needs, such as starting a TNR program; holding ongoing educational workshops; expanding low-cost spay/neuter clinics for feral cats as well as pet cats; or encouraging policymakers to adopt common-sense initiatives that protect and improve the lives of cats.
Alley Cat Allies launched National Feral Cat Day® in 2001 to raise awareness about stray and feral cats, promote Trap-Neuter-Return, and recognize the millions of compassionate citizens who care for cats. Learn more at http://www.NationalFeralCatDay.org.
###
About Alley Cat Allies
Alley Cat Allies is the only national advocacy organization dedicated to the protection and humane treatment of cats. Founded in 1990, today Alley Cat Allies has over half a million supporters and helps tens of thousands of individuals, communities, and organizations save and improve the lives of millions of cats and kittens nationwide. Its website is http://www.alleycat.org.