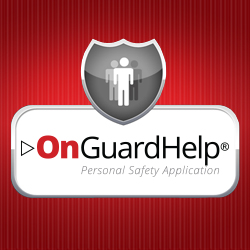 You're never alone, with your personal bodyguard -OnGuardHelp, your emergency safety APP
Hayesville, NC (PRWEB) June 02, 2014
OnGuardHelp is a mobile personal emergency response system that has been developed to provide an easy access to emergency services, if a person feels unsafe or faces an emergency. In just a single tap on the screen, the user can call or send a text alert to family, friends or law enforcement to make them aware of the severity of the situation and to respond with immediate help.
This app was developed with the focus to help save lives and help individuals to be more secure wherever they go. Just like a safety tool to help people deal more effectively with any crisis or a situation. People concerned about the safety and security of their loved ones are finding OnGuardHelp mobile app to be highly useful.
OnGuardHelp application is designed to work on Smartphones and other mobile devices that run Android operating system. The app has user-friendly interface that enables the user to have immediate access to help in an emergency.
The app comes with five primary emergency calling functions: Contact 1, Contact 2, 911, OnGuard Talk and OnGuard Silent. Contact 1 and Contact 2 has programmable texting and speed dial features used to get help in a non-emergency situation such as running out of gas or having a flat tire while driving a car. "911" gives direct access to the closest 911 dispatch by just tapping on the 911 icon. The last two functions, OnGuard Talk and OnGuard Silent, provide the user access to help 24/7 with the OnGuardHelp Crisis Monitoring Center. When the OnGuard Talk icon is tapped, the user is immediately connected to a trained and certified Crisis Management Agent whose computer screen will display the caller's name, current location, and all pertinent medical information (previously provided by user).
The GPS tracking location technology enables the Agent to immediately notify and coordinate dispatch of first responders to the emergency location, providing necessary help as fast as possible. Also, OnGuardHelp Silent can be used in any threatening situation where the user is frightened or in danger and not able to make a regular call to talk. With the tap of the On Guard Silent button, the user is connected with the Crisis Management Agent who immediately knows it is a "Silent" alert cal and that there is a serious problem. Without any conversation, that Agent will listen and immediately notify Law Enforcement, relaying pertinent information and send required help at the user's location. The Agent will then stay on the phone and silently monitor the situation until the help arrives.
About OnGuardHelp
OnGuardHelp is a multi-functional mobile emergency software application that helps its user to more effectively handle, or at best avoid, a critical emergency situation by alerting law enforcement or first responders with a simple "tap of the app".
It is a safety / emergency calling application that is available for download on the Google Play Store. OnGuardHelp is offering the Bronze Plan for free which will allow user access to the Contact 1 function of this app. There is also a Silver Plan that includes Contact 1, 2 and 911 calling and texting features. The Gold Plan, which is the premium package, includes all five calling functions and provides continuous access to the OnGuardHelp Crisis Monitoring Center 24 hours a day.
Please visit http://www.onguardhelp.com for additional information about the OnGuardHelp app and subscription plans offered.