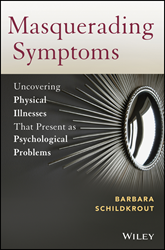 Indianapolis, IN (PRWEB) June 02, 2014
More than 100 discrete medical diseases are capable of masquerading as mental disorders. Most are common ailments and most are treatable. But these covert diseases are often undiagnosed or misdiagnosed. This is a widespread problem so prevalent that virtually every therapist is likely to have one or more such misdiagnosed patients each year of his or her professional career.
Masquerading Symptoms: Uncovering Physical Illnesses That Present as Psychological Problems will prepare clinicians to quickly and accurately identify patients who are most likely to have an underlying physical ailment and need a targeted medical work-up. And it also describes a proven process for working with patients during the referral process and afterward, integrating medical findings into their ongoing therapeutic work.