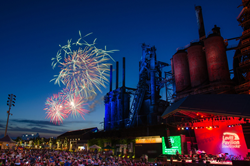 We thank FIFA and ESPN for their interest and involvement with this unique soccer celebration here in the Lehigh Valley. It really highlights this region's growing reputation as a destination for world-class festivals and sports events
Bethlehem, PA (PRWEB) May 30, 2014
Lehigh Valley will be in the national spotlight when ESPN, the Worldwide Leader in Sports, visits SteelStacks June 16 as part of the official FIFA World Cup™ SoccerFest and Viewing Party. The internationally respected sports network has selected SteelStacks as one of a handful of destinations around the country where it will offer live look-ins at the crowds gathered to watch the USA versus Ghana game, set for 6 p.m. that evening.
As part of its coverage of World Cup Brazil™, ESPN will have cameras at select soccer viewing parties around the U.S. The network plans to offer live look-ins during the United States' games, capturing audience response to goals and big plays, as well as reaction following the conclusion of matches. In addition to Bethlehem, other cities confirmed so far for ESPN appearances include Chicago and Kansas City.
"As we move closer to the start of the 2014 World Cup, the excitement for this international soccer showcase continues to build," says Curt Mosel, Vice President of Marketing and Public Relations for ArtsQuest, the nonprofit arts organization serving as the host for the SoccerFest and Viewing Party at SteelStacks. "Over the past few months, we've worked closely with ESPN to highlight the many elements that will make the FIFA World Cup™ SoccerFest and Viewing Party a one-of-a-kind experience celebrating the World's Game, so we're honored that they have chosen SteelStacks as one of the locations for game-day coverage."
We thank FIFA and ESPN for their interest and involvement with this unique soccer celebration here in the Lehigh Valley. It really highlights this region's growing reputation as a destination for world-class festivals and sports events."
The FIFA World Cup™ SoccerFest and Viewing Party will take place June 12-16 and 19-22 at SteelStacks, a new arts and cultural campus located on the site of Bethlehem, Pa.'s former Bethlehem Steel plant. From 1913-30, Bethlehem Steel was home to America's first pro soccer dynasty, the Bethlehem Steel Football Club, which would twice go on 41-game winning streaks while also becoming a five-time winner of the National Cup, now the U.S. Open Cup, the longest running soccer competition in the nation.
One of a select few outdoor viewing events in the nation officially approved by FIFA, the FIFA World Cup™ SoccerFest and Viewing Party features 26 World Cup Brazil™ games, including USA vs. Ghana June 16 and USA vs. Portugal June 22, shown on a 17-foot high by 27-foot wide outdoor LED screen on SteelStacks' Air Products Town Square. Both weekends of the festival are also packed with soccer programs, clinics, hands-on activities and special events appealing to soccer fans, players, coaches and families. For more information, visit http://www.lvsoccerfest.com.
About SteelStacks
SteelStacks is an arts and cultural campus located on the site of Bethlehem, Pa.'s former Bethlehem Steel plant. Through a unique public-private partnership, this industrial site, one of the largest Brownfields under redevelopment in the nation, has been transformed into a dynamic destination for music, art, festivals and cultural events throughout the year. Public and nonprofit partners working together to bring new life to the former steel mill include the Bethlehem Redevelopment Authority, City of Bethlehem, Bethlehem Area School District, Northampton County, ArtsQuest and PBS39. For more information on SteelStacks, visit http://www.steelstacks.org.