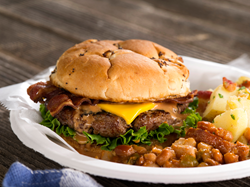 Fire up the grill for this great summertime burger!
Oklahoma City, OK (PRWEB) June 01, 2014
Summer is around the corner and, as the days get longer and the nights get warmer, it is time to break out the grill and sizzle it up with a new assortment of recipes. The Made in Oklahoma Coalition has arranged an entire meal to kick off your summer fun; from Barbecue Bacon Burgers, to Smokin' Baked Beans, and Oklahoman-Style German Potato Salad.
M.I.O. has brought together five Oklahoma based companies to help prepare this meal: Bar-S Food Company, Head Country, Garden Club, JC Potter, and Seikel's Oklahoma.
Barbecue Bacon Burgers
Fire up the grill for this great summertime burger!
Ingredients:
½ pound Bar-S Thick-Sliced Bacon
¾ cup Head Country Original Bar-B-Q Sauce, divided
¼ cup Garden Club mayonnaise
¼ pound JC Potter Regular Pork Sausage
1 pound ground chuck
1 teaspoon Head Country All Purpose Seasoning
Preparation:
1. Cook bacon in a sauté pan over medium heat until fully cooked. Set aside.
2. In a small combine, stir together ½ cup Head Country sauce and mayonnaise. Set aside.
3. In a large bowl, combine sausage, ground beef, seasoning and remaining ¼ cup Head Country sauce. Mix until fully combined. Form into 6 patties.
4. Cook on an outdoor grill over medium heat for about 6 minutes per side or until burgers are done to your liking. Top with cheese and cook another minute to melt the cheese.
5. Place burgers on buns spread with barbecue-mayo mixture and top with bacon.
Smokin' Baked Beans
Smoked sausage adds great texture and flavor to this summer barbecue staple.
Ingredients:
½ pound JC Potter Sliced Slab Bacon
1 (13-ounce) package Bar-S Smoked Sausage, sliced
½ cup chopped onion
½ cup chopped bell pepper
2 (15-ounce) cans pork and beans
2 (15-ounce) cans Great Northern beans
¾ cup Head Country Original Bar-B-Q Sauce
¼ cup ketchup
2 tablespoons Seikel's Oklahoma Gold Old Style Mustard
¼ cup Garden Club Vinegar
4 tablespoons brown sugar
Preparation:
1. Cook bacon over medium heat in a deep-sided sauté pan or Dutch oven until fully cooked. Remove bacon and set aside.
2. Drain bacon drippings so that you're left with about 1 tablespoon in the pan. Sauté sliced sausage, onion and bell pepper for 5 to 7 minutes until vegetables are tender.
3. Add beans, sauce, ketchup, mustard, vinegar and brown sugar. Simmer 8 to 10 minutes until bubbling and slightly thickened.
4. Transfer beans to a greased 2-quart dish, cover and bake at 350 degrees for 1 hour. Uncover and continue to bake for 25 to 30 minutes. Let sit for 10 minutes before serving.
Oklahoma-Style German Potato Salad
This mayo-free potato salad is an excellent choice for outdoor parties or picnics.
Ingredients:
2 pounds Yukon Gold potatoes
½ pound JC Potter Sliced Slab Bacon
¾ cup chopped yellow onion
1 tablespoon Seikel's Oklahoma Gold Mustard
1/3 cup Garden Club Vinegar
2 tablespoon rice wine vinegar
¼ cup sugar
1 teaspoon kosher salt
2 tablespoons chopped fresh parsley
Preparation:
1. Place potatoes in large pot, and fill with water to cover potatoes 2 inches. Add some salt to water for flavor. Bring to a boil, then simmer 20 minutes or until potatoes are tender but still hold their shape. You may need to add 5 minutes to cooking time, depending on the size of the potatoes.
2. Once potatoes are cooked, remove from water and cut into cubes.
3. While potatoes are boiling, cook bacon in a sauté pan over medium heat until cooked and crisp. Crumble bacon and set aside, but reserve bacon drippings in pan.
4. Add onion, cooking over medium heat for 5 minutes or until onion is softened. Add mustard, vinegars, sugar, salt and parsley, letting simmer for 2 minutes to combine flavors.
5. Toss warm potatoes with sauce and reserved crumbled bacon. Serve warm or at room temperature.
About the Made in Oklahoma Coalition. M.I.O. is a state-run group that represents more than 40 Oklahoma food and agricultural manufacturers, who employ over 20,000 Oklahomans statewide. MIO's mission is to promote brand awareness and consumer loyalty for Oklahoma food and agricultural products. This is accomplished through collective marketing for the purpose of increasing sales, maintaining business retention and expanding Oklahoma's food processing sector. MIO, Good for Oklahoma. Good for you. For more information visit http://www.miocoalition.com.