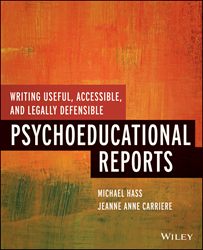 Indianapolis, IN (PRWEB) June 02, 2014
From clearly identifying reasons for referral to making recommendations based on assessment results, Writing Useful, Accessible, and Legally Defensible Psychoeducational Reports, shows you how to create more effective psychoeducational reports. The authors offer step-by-step guidelines on creating an assessment plan in a collective process with parents, teachers, and other professionals, choosing appropriate assessment and data collection tools, and providing clear and feasible individualized recommendations that directly respond to referral concerns in a format easily understood by parents and teachers.
Appropriate for graduate students in school psychology, school psychologists, and other professionals in related fields who work with children in a school setting.

Provides specific suggestions for increasing the usefulness and accessibility of reports including readability, positive phrasing, and vocabulary
Illustrates how to develop well-formed questions and how to choose assessment tools to answer referral questions
Reviews the legal mandates of report writing and discusses what must be included
Shows how to accurately document and integrate data from record review, interviews, observations and tests
Discusses how the use of the referral-based consultative assessment and report writing model can promote more active involvement in collaboration, consultation, prevention, and intervention
Features numerous practice exercises, sample reports, helpful checklists, and end of chapter questions to reinforce your grasp on the information covered