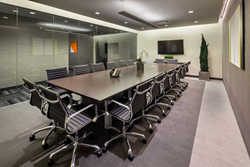 New York, NY (PRWEB) June 02, 2014
Virgo Business Centers, a New York-based furnished office space provider, is making available virtual office space in six prestigious Manhattan locations with 1345 Avenue of Americas the sixth address. These low cost virtual offices allow small business to take advantage of many of the benefits of leasing commercial office space for a faction of the cost. Virgo's virtual office locations include the Empire State Building, 14 Penn Plaza, the Chanin Building, and more.
Many businesses do not need a full sized office in a commercial office space. For professionals who spend more time with clients and on the job than in the office, or small business with a working home office, spending hundreds of dollars a month on commercial office space is an unnecessary expense. However, a business' address is part of the all-important first impression. An office space in a prestigious location contributes to a professional image.
Renting a virtual office allows businesses to use a mailing address and local phone number for a well known commercial office building. At a fraction of the cost of a full office space, they can have professional receptionist and mail handling, a prestigious address, and the convenience of working from home or on the road. Virtual office renters can also take advantage of Virgo's meeting rooms, available by the hour or the day, if they need to meet clients or investors.
Virgo's virtual office services are available "a-la-carte" allowing clients to create a customized experience matching their needs and budget. Virtual office services include: prestigious NYC mailing address, mail handling & distribution, 212 phone number & voice mail, and receptionists to answers & forward phone calls. This convenient option is highly scalable, so a business that expects to see significant growth can easily adapt their service selection as their needs change.
Virtual offices were first introduced in the mid '90s. Developing out of the "executive suite" rentals popular at the end of the century, virtual offices provide a flexibility unavailable in traditional office leases which has made them increasingly popular with professionals who prefer to work from home or on the road. Many entrepreneurs and professionals feel virtual offices provide the best of both worlds. Virtual office clients get the benefits of having a full time receptionist, access to a high quality office when they need it, and a recognizable 'official' address for their business, without the high cost, environmental footprint, or daily commute of renting and staffing their own office. At the same time, they have the convenience and flexibility of doing their work at home or on location while maintaining the professional image that comes with having a fully staffed office.
Virgo Business Centers has been providing high-quality serviced office space in the New York Metropolitan area since 1998.As one of New York City's premier providers of office space, Virgo prides itself on professionally furnished office solutions at a low-cost point, as well as a wide range of other business services.
Virgo Business Centers
1345 Avenue of Americas
2nd Floor
New York, NY 10105
(212) 601-2700